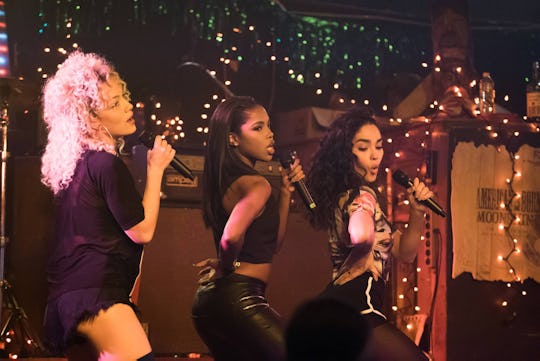 Annette Brown/FOX
Is 'Star' Based On A True Story? The Show Draws Inspiration From Music Industry Icons
Empire creator Lee Daniels struck ratings gold with his FOX musical drama based on Shakespeare's King Lear. Except instead of an old king pitting his daughters against each other for inheritance of his kingdom, he placed a hip hop label owner at the center of the drama, who pits his three music industry sons against each other for inheritance of the Empire. Now, Daniels is following up that success with a new musical drama premiering on FOX titled Star. It boasts yet another star-studded cast and music by Swizz Beatz, but is Star based on a true story?
Unlike its predecessor, Star doesn't have Shakespearean roots. It's not formally based on any one story or musical act, but Daniels did draw from real life to develop the series. It follows the makings of a girl group from Atlanta to New York City with a modern twist. At the center of the action is Star, a young and talented woman who has just exited the foster system. She then proceeds to bail her half sister out of her own foster home and heads to New York to meet up with another teenager girl she met on Instagram (who happens to be the daughter of an extremely wealthy man played by Lenny Kravitz) to form the girl group of her dreams. The racial dynamics of the group come heavily into play, according to Daniels, who told reporters at TCA's summer press tour, "Star is white and she is thrust into a world of blackness."
Queen Latifah stars as the godmother of the two sisters, who tries in vain to steer the girls away from the music industry, which she herself got burned by in her youth. When asked if there was any particular inspiration for the storyline, Daniels said, "It's based on LaBelle, it's based on the Supremes, it's based on TLC, it's based on Destiny's Child. Same sort of inspirations, same sort of template when we created Empire."
And Empire fans may notice that both of these shows focus on the music industry in modern day New York (or at least partially there and partially in Atlanta). So is there any possibility that the girls of Star may do a performance at Leviticus or that Cookie Lyon may stop by Lenny Kravitz's home for a glass of wine? A crossover isn't planned but it's not impossible, says FOX's Dana Walden.
"It's not inconceivable that the two worlds could cross, but that's not Lee's intention," she said at the TCA press tour. "Perhaps down the line there will be some shared DNA, but not heading into the show."
Star premieres Wednesday, Dec. 14 on FOX.