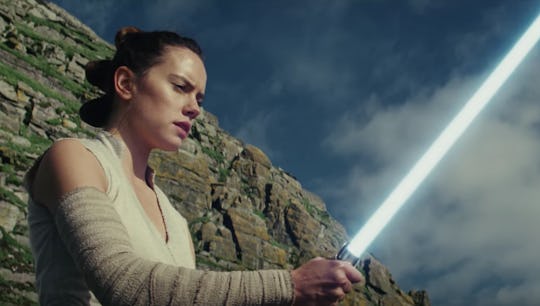 Walt Disney Studios
Here's What Parents With Kids Under 5 Need To Know About 'Star Wars: The Last Jedi'
With Star Wars: The Last Jedi set to premiere this week, many parents are wondering if they'll be able to take their young ones to the theater with them to catch the latest movie and introduce them to a favorite series. So can kids under 5 watch Star Wars: The Last Jedi, or are you better off using the movie as a good excuse for a date night?
Unfortunately for parents who are excited to introduce their little ones to a galaxy far, far away, Star Wars: The Last Jedi has been rated PG-13 by the Motion Picture Association of America, just like Star Wars: The Force Awakens was when it came out in 2015. And if you're thinking, "Pshh! The original trilogy was totally cool for younger kids, this should be fine," remember that computer graphics have come a long way since the 1970s and 1990s.
The original Star Wars films were generally rated PG, with a Common Sense Media rating of 8 years and up. Star Wars: The Last Jedi, however, has earned a Common Sense Media rating of 10 and up — so even if you're a little lax with your PG-13 standards, it's still not an appropriate movie for kids under age 5.
Multiple reviews have branded The Last Jedi as "dark" and "heavy," which is one of the reasons why it's not entirely kid-friendly. And though heavy swearing isn't a concern and there aren't any racy romance scenes in the movie, there is plenty of violence to be found. The British Board of Film Classification mentions "moderate violence" and fighting between spaceships, but also notes that blood and injury detail is kept to a minimum. According to Common Sense Media, parents can also expect to see the following within the film:
Explosions
Chase scenes
Battles
Duels
Several deaths
According to Screen Rant, there aren't any terribly bloody scenes for parents to worry about, and most of the violence in The Last Jedi is inflicted with lightsabers and other jedi-style weapons, which can be easier for kids to watch than more realistic violence on screen. (After all, kids already hear about real-world violence far too often. Fantasy violence is easier for them to disassociate from, and it doesn't bring to mind any terribly real fears.)
Those with children who are a little closer to the 13-year mark but still under it can always decide for themselves whether their kid can handle the violence. If needed, you can go watch Star Wars: The Last Jedi solo, with your child in mind, then return with your kid if you think they'll be OK with all of the scenes featured in it. After all, you know them best and every child is different.
Even if your children can't join in on the fun, however, The Last Jedi is shaping up to be a promising film. Early critics' reviews have already earned the movie a 94 percent rating on Rotten Tomatoes, and it's garnered impressive nods of approval from The New York Times, New York Magazine, and TIME. In fact, even astronauts aboard the International Space Station will be watching Star Wars: The Last Jedi, since the film will be sent to current crew in orbit. (Can we call that the most exclusive film screening ever? Because I'm pretty sure I've never heard of another screening where you need to meet such stringent requirements in order to get in.)
Star Wars: The Last Jedi will hit theater screens on Friday, Dec. 15 in the United States and Canada. And unless you want to stay off social media for days in order to avoid spoilers, you'll want to be there for opening night.
Check out Romper's new video series, Romper's Doula Diaries:
Watch full episodes of Romper's Doula Diaries on Facebook Watch.