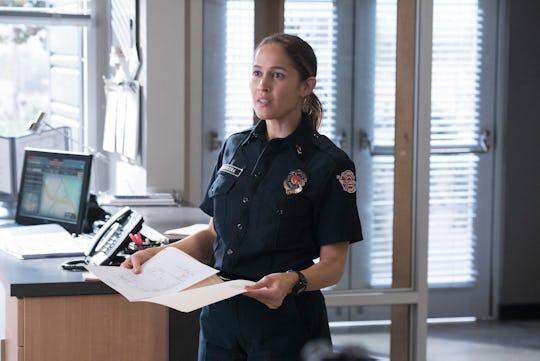 Kelsey McNeal/ABC
'Station 19' Takes Place Near A Very Familiar Setting In Seattle
Grey's Anatomy is not just a hospital show. It's kind of the hospital show, taking place in a fictionalized version of Seattle at the TV hospital, Grey Sloan Memorial. So now that the show's spinoff series Station 19 is about to air, many may wonder whether it takes place in an equally fictional universe. Is Station 19 a real fire station? The Grey's Anatomy spinoff is set just blocks away from that show's hospital, which could technically be anywhere since Grey Sloan Memorial does not actually exist. What I'm trying to say is no, Station 19 is not a real fire station.
The official website for the city of Seattle actually has a list of its 33 fire stations, many of which are numbered just like the name of the show. But the station numbers skip right from Station 18 – Ballard to Station 20 – West Queen Anne, meaning there is no Station 19, just like there is no Grey Sloan Memorial. Perhaps the fact that there is no real Station 19 is the reason it was decided as the name of the fire house where all of the television drama is about to transpire. After all, it would be a really bad look if the events of the show somehow managed to malign a real team of firefighters.
As reported by Variety, executive producer Paris Barclay announced the show's official title of Station 19 at the end of January via Twitter. The outlet reported that at the Alphabet's Television Critics Assn. press tour panel before the official title was announced, ABC Entertainment president Channing Dungey said, "coming up with a title is one of the most challenging things we do," and added, "We really want to make sure that what we settle on is perfect." So this means that the show's creators thought long and hard about what to name their fictional fire station and what to name the show.
It's also clear that just like its predecessor, Station 19 is set in a fictional world with a fictional fire station and fictional characters, although it is true that the people of Grey's Anatomy sometimes seem real because they've been a part of everyone's lives for the past 100 or so years. But no, this show is based on nothing more than pure imagination and an understanding of what draws people in week after week after week.
The spinoff show will feature former surgeon Ben Warren, played by Jason George, as he leaves his life as a doctor to be a firefighter. The main protagonist of the show is firefighter Andy Herrera played by Jaina Lee Ortiz. Viewers got a sneak peak of the series with a crossover episode of Grey's Anatomy. Andy was introduced as she rushed a young boy with a severe injury to Grey Sloan Memorial and immediately bonded with Meredith Grey as she suddenly found herself instrumental to saving the boy's life. Now it's Andy's journey that Station 19 will follow as she has to lead the team of firefighters after her father steps down as captain.
And luckily if you're getting excited about this friendship between Meredith and Andy, show-runner Stacy McKee has teased the potential for plenty more series crossovers between the two neighboring shows. Who knows who will pop up at the fire station or at the hospital in random episodes going forward? What I can tell you for sure is that Station 19 is probably the most dramatic and improbably attractive fire station in the entire city of Seattle.
Check out Romper's new video series, Romper's Doula Diaries:
Watch full episodes of Romper's Doula Diaries on Facebook Watch.