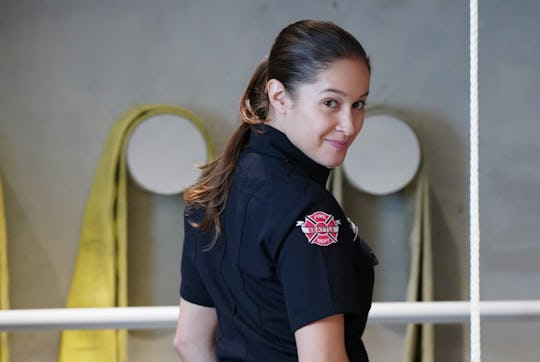 Mitch Haaseth/ABC
'Station 19' Is The 'Grey's Anatomy' Spinoff You Never Knew You Needed
The much anticipated spinoff to Grey's Anatomy, has finally arrived, so Shondaland devotees and soap opera lovers the world over want to know where the inspiration for this show came from. You may be wondering if Station 19 is based on a true story. The setting for the show isn't technically true, but like any good drama has enough high emotions to make the characters seem real. Like its predecessor, Station 19 features a lot of high pressure situations that veer on the unbelievable, but nobody wants a mundane drama.
Station 19 takes place in the fictional Seattle fire station, Station 19, just a few blocks away from the fictional Grey Sloan Memorial hospital where Grey's Anatomy is set. The show sees former surgeon Ben Warren decide to leave medicine to become a firefighter at the station. This is the link between the two shows but Station 19 doesn't focus on Ben. Instead, the lead character is Andy Herrera, played by Jaina Lee Ortiz, a confident firefighter following in the footsteps of the head of the firehouse, her father, Captain Pruitt. Andy juggles the high pressures of her heroic job with the stresses of her personal life. This being a Shonda Rhimes show, that means lots of messy romantic entanglements.
Andy was first introduced to audiences in a Grey's Anatomy crossover episode, in which she roled up to Grey Sloan Memorial in an ambulance with her hand as the only thing stopping a 10-year-old fire victim from bleeding to death. Casual. After this dramatic introduction, Andy will take over as the Meredith Grey, if you will, of her own show, sure to be another wild ride (and one led by badass women no less). But while there are no shortage of real life hero firefighters or women leading station houses, this particular fire station is based on the imagination of its writers alone.
For example, there is no Station 19 in Seattle, just as there is no real Grey Sloan Memorial hospital. While these places were probably modeled on real hospitals and fire houses, the places in the show and the people who inhabit them are pure fiction. That doesn't mean I'm not excited to see what happens. Though I'm perhaps not as excited as Ortiz was when she first set foot on the set of Grey's Anatomy for the crossover episode with Ellen Pompeo, who plays Meredith.
"It was a surreal feeling of having binge-watched Grey's Anatomy for several years, so to finally be walking on their set, I can't even put it into words," Ortiz said in an interview with Entertainment Weekly. In the interview Ortiz also said that Meredith and Andy have a lot of similarities, so people who fell in love with Meredith won't have a hard time getting attached to Andy. "I feel like they're both independent, strong, successful, smart women who just want to be the best in their profession," she added.
As for Ben Warren, the actor who plays the character, Jason George, told E News why he's excited for this new show. "No I'm not nervous because it's in the Grey's universe, it's Grey's adjacent so it has all the things about it that I love about Grey's but it's also got... I'm an action junkie, my character's an action junkie and so it's got all this action in it that I'm excited about." A more action-packed version of Grey's Anatomy? I don't know if my heart can handle it. Luckily both shows feature talented doctors and EMTs so someone can revive me when I pass out from excitement.
Check out Romper's new video series, Romper's Doula Diaries:
Watch full episodes of Romper's Doula Diaries on Facebook Watch.