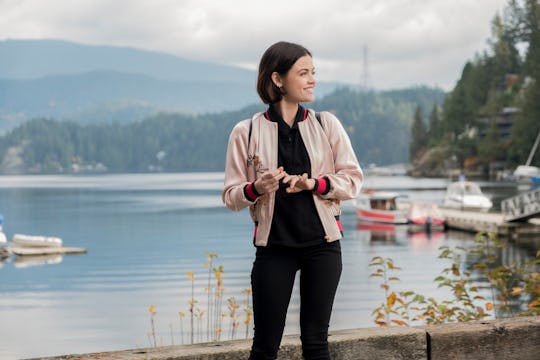 Bettina Strauss/The CW
Find Out All About The Inspiration Behind Lucy Hale's Role On 'Life Sentence'
If you were a high school graduate in 2004, then you might remember your graduation song as being Tim McGraw's "Live Like You Were Dying," so you probably know that it's a song about someone fitting in all they can in their life before they die. For the new CW series, Life Sentence, that's the general idea, only in the show, Stella Abbott finds out her cancer is gone and has to deal with all the decisions she made when she thought her life was almost over. But is Stella Abbott from Life Sentence based on a real person? The plot of the dramedy is definitely inspiring, but it looks like the characters and the story itself are all entirely fictional.
Even so, that doesn't mean that there won't be some seriously interesting and tear-inducing scenes to be had in the first season alone. The show was created by Erin Cardillo and Richard Keith, who have both worked on Fuller House together, but they also haven't said anything about drawing inspiration from real life events of people for the show. So it's safe to say that Life Sentence is a fictional series, though it does make you think. In the trailer, you see Stella, played by Pretty Little Liars star Lucy Hale, literally live her life like she's dying, complete with marrying her boyfriend and living with abandon.
When she finds out that her cancer is gone, however, she has to live with the choices she's made. And she also has to watch how her illness impacted those around her in a permanent way, so the premise definitely has very realistic undertones to it.
In the trailer, Stella learns that her parents' marriage was over long before her cancer went into remission, but that they'd put on a show of sorts to be able to keep a happy home and family life for her while she was dying. She also learns that her siblings gave up potential careers and educations in order to stay home and be there for her and that her parents will likely have to sell their family home because of the costs related to Stella's cancer.
These are all things that could happen in real life with people who are actually fighting a terminal illness. With Life Sentence, Stella has to learn about all of the sacrifices that were made for her, while still trying to live her life now that she has one again.
Many fans might remember Hale from her role on the long-running series Pretty Little Liars and while Life Sentence is a different kind of role for the actress, she stepped into it almost immediately following the PLL series end and welcomed the change of pace. "After eight years, I knew I needed something so tonally different," Hale told Us Weekly. "I needed to step out of the box. And I just loved Stella. We need more empowering female leads like her. She was given this second chance and she's super optimistic."
She also said that a big part of the series is "a lot of family dysfunction" and she pointed out that "nothing is more relatable," so there will be a lot of different aspects to Stella's journey. Since Bill Lawrence, who created Scrubs, also serves as one of the executive producers of Life Sentence, fans can probably expect some of the same comedy mixed with drama, but as a whole, it looks like the show is fictional, which would mean that the characters are also completely made up.
Of course that doesn't mean it's going to be any less interesting, though, and since there's no real life story to follow, pretty much anything can happen as the series progresses.
Check out Romper's new video series, Romper's Doula Diaries:
Watch full episodes of Romper's Doula Diaries on Facebook Watch.