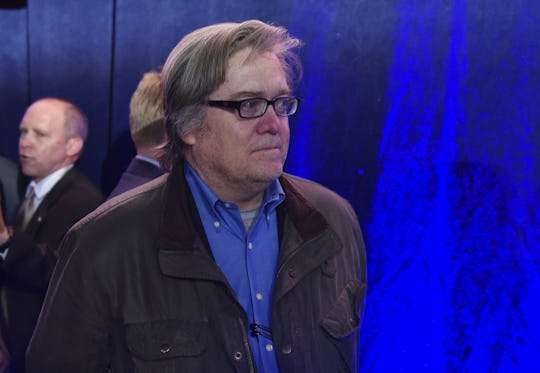 MANDEL NGAN/AFP/Getty Images
Is Steve Bannon Married? Critics Are Investigating His Past
For all that's been said about former Trump campaign CEO Steve Bannon since the news of his appointment as chief strategist in President-elect Donald Trump's Cabinet, a lot of what is known about him actually comes from what people have said about him. Leaked emails, and quotes from former Breitbart writers and editors, as well as others who have known or worked with him have suggested that Bannon is a highly-controversial figure who is influential in Trump circles, and who has been accused of being a racist and white nationalist. Perhaps unsurprisingly then, not a whole lot is known for sure about his personal life either. Is Steve Bannon married? He's reportedly been married three times, and at least one of those marriages was plagued by allegations of domestic abuse. Bannon has not responded to Romper's request for comment regarding these allegations.
Bannon and his first wife, Cathleen Jourdan, have a daughter named Maureen, an athlete who attended the The United States Military Academy (aka, West Point). Not much has been written about Bannon's first marriage, although in an interview with a West Point athletic publication in 2009, Maureen spoke about growing up in California with her parents, and the fact that Bannon's job, coupled with the couple's divorce, meant that she rarely saw her father growing up. But she told the magazine that he "more than [made] up for it," after she enrolled in West Point, and that he was a regular fixture at her volleyball games.
According to The Los Angeles Times, Bannon married his second wife, Mary Louise Piccard in April 1995, three days before Piccard gave birth to the couple's twin daughters. But the marriage was short-lived and seemingly rocky: less than a year into their marriage, Piccard called 911 from their Santa Monica home, and the police report spoke of a domestic dispute that escalated into Bannon allegedly grabbing her by the wrist and neck, leaving red marks, and throwing and smashing the phone when she attempted to call 911. Bannon was charged with "misdemeanor domestic violence, battery and witness intimidation," and Piccard also filed for a restraining order, but Bannon plead not guilty to the charges, and the case was ultimately dismissed when Piccard did not show up for the trial. They divorced in 1996.
Documents from the divorce and custody proceedings that followed showed that the relationship between Bannon and Piccard did not improve much after the split. Bannon had primarily been living in Tucson at the time, and Piccard was granted primary physical custody of their children. But during one of Bannon's visits later that year, Piccard alleged that Bannon spanked one of the girls, who were 17 months old. In a court statement, Piccard wrote, "I restrained him and told him that it was not acceptable to hit our daughter (he believes in corporal punishment)," and that her ex-husband "screamed at [her]" and "stormed out of the house," according to The Los Angeles Times. The following year, Piccard requested that the courts only grant Bannon visitation in public places, because she claims he was "verbally abusive" in front of their children and that she "[did] not feel safe." It's unclear what the outcome of that request was, and Bannon's rep did not immediately return Romper's request for comment, but his spokeswoman, Alexandra Preate, did tell NBC News that "Mr. Bannon and his ex-wife and his children have a great relationship."
Not much is known about Bannon's third marriage (to Tea Party activist Diane Clohesy) other than that it ended in 2009. The two didn't have any children, but Clohesy and Bannon's relationship recently made headlines when it was discovered that Bannon was registered to vote in Florida (a key swing state), at a vacant home he once rented for his ex-wife, but didn't actually live in, according to The Guardian. Clohesy apparently moved out of the house earlier this year, and now the house is set to be demolished for new construction.
Given the fact that the Bannon-led Trump campaign made numerous claims that voter fraud was rigging the election in favor of former Secretary of State Hillary Clinton, it definitely seems questionable that Bannon himself could have breached election laws by falsifying his voter information, especially since he's actually thought to be a resident of California, where he owns a house in Laguna Beach, and a condo in Los Angeles. The Trump campaign remained mostly mum on the issue, but campaign spokesperson Jason Miller told The Guardian "Mr Bannon moved to another location in Florida." Romper's request for comment was not immediately returned.
From the sounds of it though, Bannon and Clohesy remain somewhat close despite their divorce. According to her LinkedIn profile, Clohesy works as a director, producer, and social media manager for Breitbart News, for which Bannon was formerly the executive chairman. Bannon and Clohesy also worked together making The Undefeated, a film about former Alaska Gov. Sarah Palin.
Much like his professional reputation, his private life seems to be pretty controversial — but given his involvement in the perennially-controversial Trump campaign (a man who has also been married three times), it is perhaps not entirely surprising. It's unknown whether the public will learn more about Steve Bannon when he begins his new role in the Oval Office, but so far, it's safe to say there are a lot of people thoroughly unimpressed with Trump's choice.