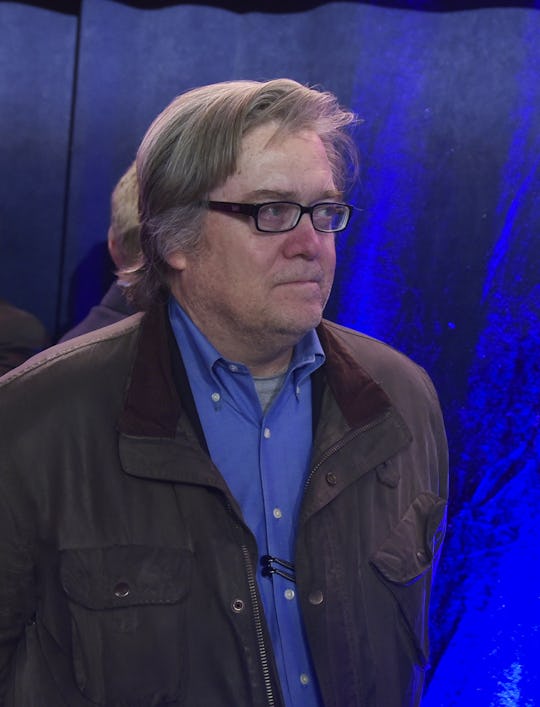 MANDEL NGAN/AFP/Getty Images
Is Steve Bannon's Appointment Official? People Are Deeply Concerned
Since President-elect Donald Trump's election victory, many across the country have expressed concern or downright outrage, over his Cabinet appointments, in addition to his presidential win itself. His appoint of Steve Bannon, a former executive chairman of media outlet Breitbart News, as chief strategist, has helped spark further protests from those already protesting Trump's win – especially considering Hillary Clinton's lead in popular vote has surpassed 2 million. So, is Bannon's appointment official? The appointment has many worried and enraged.
Unlike more historically official White House appointments, like South Carolina Gov. Nikki Haley's nomination as U.S ambassador to the UN, which would require confirmation by the Senate, "chief strategist" is a bit less traditional. As Mic reported, Bannon's White House position is relatively new, with fewer formalities with likely no administrative responsibilities. Since Trump announced Bannon's appointment earlier this month, there's been a lot of protests but no reason to think the appointment will not move forward come inauguration on Jan. 20.
Many have pointed to Breitbart's content, which has published work that has been called out for reflecting anti-Semitic, anti-Muslim, sexist, and white supremacist rhetoric. As Politico reported, elected officials like, Minnesota Sen. Al Franken, have publicly expressed their grievances with Bannon's appointment. Franken wrote in a Facebook post, according to Politico:
White supremacists have made it clear that they see Bannon as their advocate in a Trump Administration, which is not only disturbing, but also dangerous for millions upon millions of people in Minnesota and across the country. Steve Bannon should not be allowed to hold any position in the White House, let alone one that would allow him to make critical decisions about how our country is run. If he truly seeks to unite America, Donald Trump can start by finding someone else to advise him. And do it immediately.
And Franken certainly isn't the only person to hold such strong views. Harvard Kennedy School, Harvard University's public affairs school, recently invited Bannon to speak at an event the school will host this Wednesday called "Campaign for President: The Managers Look at 2." The decision was met with swift backlash from students and residents in the Boston area. According to the university's newspaper, The Crimson, a protest with more than 700 participants is set to take place on Wednesday.
The school's dean, Doug Elmendorf, told the Boston Globe that the invite is not an endorsement: "In fact, the school takes no positions on specific issues in public policy beyond those directly relevant to the School itself, so we never endorse speakers' or conference participants' views, and we deliberately invite guests who represent a wide range of views on many issues," he said.
Trump's Cabinet picks, and his policies, continue to be closely-watched as January nears.