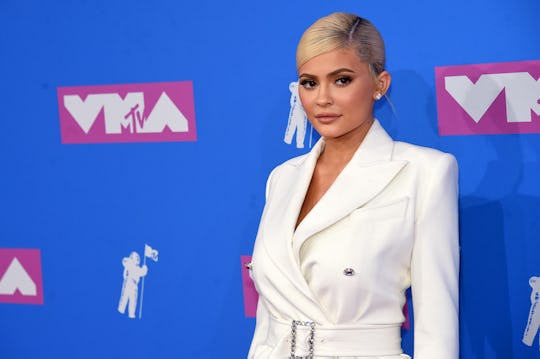 Jamie McCarthy/Getty Images Entertainment/Getty Images
It Sure Looks Like Kylie Jenner's Daughter, Stormi, Could Be Making Her 'KUWTK' Debut
Now that this season of Keeping Up With The Kardashians is well under way, people have been learning a lot about Khloé Kardashian and Kylie Jenner's respective pregnancies, which were happening as the show was taping. And since the show documents everything that goes on in their lives, it's only a matter of time before Kardashian and Jenner's daughters, True and Stormi, make their appearances on the show. But since Jenner had maintained a level of privacy with her daughter and her pregnancy, fans are probably dying to know if Stormi is on Keeping Up With The Kardashians this season.
Good news: It's a strong possibility that Stormi will be on this season of KUWTK, and could even make her first TV appearance in Sunday's episode of the show. In a preview for tonight's episode (which airs at 9 p.m. on E!), Jenner can be seen holding Stormi (and covering her head) as her family members sit around a table.
Although it's unclear if Stormi's face will be shown on the show (or if she will appear in any more episodes), the teaser for tonight's episode proves that Stormi will be on KUWTK, even if it is for just one episode.
It seems as if this whole episode is dedicated to Jenner's pregnancy. In the preview, Jenner's sister, Kim Kardashian, tells Jenner that her secret pregnancy was "the best kept secret of our generation" and their mom, Kris Jenner, admits that she "delivered" the baby. Yep, this is going to be one episode that people aren't going to want to miss.
It's about time that Stormi made her grand debut on KUWTK, especially since Kim's daughter, Chicago West, made her debut on the show last week, according to E! News. And since Stormi was born three weeks apart from Chicago, according to E! News, her debut on KUWTK was all within a matter of time.
But fans will have to tune in to this episode of KUWTK as well as upcoming episodes of the show to see if Stormi sticks around, and if Jenner gives fans an inside look in to her life as a new mom. The good news is, Jenner does frequently post photos of Stormi to her Instagram and Snapchat accounts, so fans can still get their Stormi fill.
It's hard it believe that exactly one year ago on Sept. 22, 2017, TMZ first reported that then-20-year-old Jenner was pregnant and expecting her first child. But none of Jenner's friends and family members (including her mother) would confirm or deny the news. In turn, Jenner pretty much removed herself from the public eye before returning five months later in early February, where she revealed that she was pregnant and had given birth to her daughter, Stormi Webster, with boyfriend Travis Scott, according to Newsweek.
But a lot can change (and has changed) in a year. Since giving birth, Jenner has made her return to social media (for good), choosing to share her life as a new mom with the rest of the world. And in a preview for tonight's episode of KUWTK, Kylie stated that she kept her pregnancy out of the spotlight for herself, according to People. "I'm not trying to keep it a secret, I'm doing it for myself," she said in the preview.
Hopefully this episode of KUWTK is not the last time that Kylie Jenner addresses motherhood, talks about her pregnancy, and puts Stormi on camera.