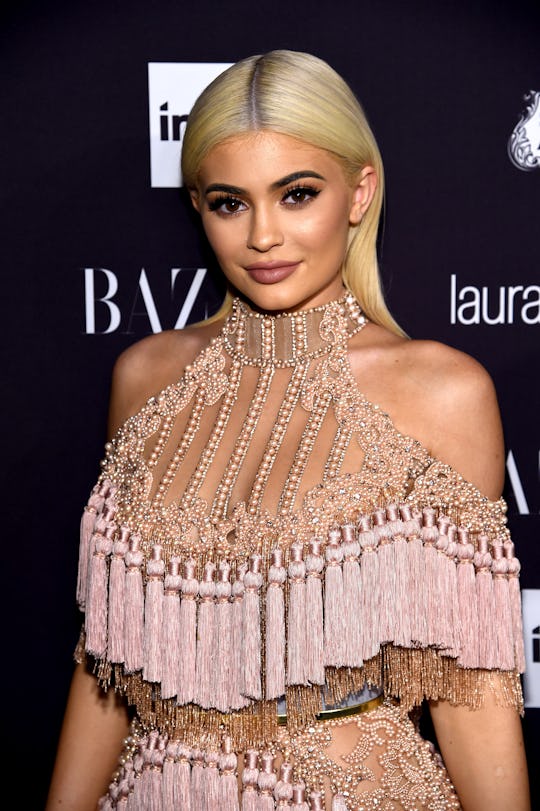 Jamie McCarthy/Getty Images Entertainment/Getty Images
People Are Really Curious If Kylie Jenner's Daughter's Name Is Short For Something
Just two days ago, Kylie Jenner revealed that she had given birth to a baby girl with a sweet tribute video to her daughter. And today, Jenner announced on Instagram that the little one's name is Stormi. Now fans are wondering, though, if Stormi is short for something else? What are the possibilities?
Jenner comes from a family of interesting baby names and nicknames. Her sister Kim Kardashian named her first daughter North and her nickname is "Nori." Kardashian's newest addition, little Chicago, has been nicknamed "Chi." So, could Stormi also be a nickname of some kind? Well, Twitter has some theories...
One fan on Twitter wrote that, "'Stormi' is short for Storm. A storm can be caused by a minute localized change in a complex system. That's known as the butterfly effect. Butterfly in Spanish is Mariposa ..."
Stormi could also be a nickname for the name "Storm," but then it wouldn't be short for anything. Stormi's cousin North's nickname is more syllables than her actual name, so it could definitely be an option. Whatever the case, fans have created their own ideas for what Stormi could be short for.
Fans Have ~*Theories*~ & Of Course, Plenty Of Jokes...
Just two days ago, Jenner revealed that she had been pregnant and had just had her baby, according to People. Jenner announced the news in a YouTube video titled "To Our Daughter." The video documented Jenner's journey from her own birth to the birth of little Stormi, who was born on Feb. 1, 2018. All of her family members appeared in the video, along with friends and Stormi's dad, Travis Scott.
The video was filled with home footage and featured testimonials from Jenner's friends and family at her baby shower. For the shower, the attendees all wore matching light pink satin pajamas and decorated onesies.
Fans really seem to think that Stormi is short for "Storm" and they are tweeting up a storm about it ... No pun intended.
Fans Are *Convinced* Stormi's Real, Full Name Is Storm
Not long after Jenner revealed her daughter's name, her mom, Kris Jenner, re-posted a photo of Stormi's hand holding her mother's bubblegum pink thumbnail on Instagram. The caption with the photo read:
Meet my precious granddaughter Stormi! I love you endlessly.
Matriarch Kris was the first of the family members to also publicly confirm Stormi's name.
Sister Kim Kardashian tweeted an emoji of a storm cloud to reflect the little one's name as well. And, Kardashian's third child was born just a couple weeks before Stormi's arrival, so the two sisters have been enjoying motherhood together. In fact, Kardashian wrote on her app two days ago that she cannot wait for their daughters to be "besties", as reported by Page Six.
Jenner's sister Khloe Kardashian was also pregnant at the same time as Jenner, so they have been able to go through their first pregnancies together. In a sweet message on Instagram, Kardashian congratulated her sister on the birth of her daughter by writing:
Congratulations My Sweet Kylie! What a magical ride it's been! I'll miss you bumping along with me. Never in a million years did I think we would do this together but it's been that much more special because of it. God is so great!! He had His plan all along!
Little Stormi certainly has come into a big family and is officially now a part of one of the biggest empires in Hollywood, as reported by the Daily Mail. Now fans are just waiting for her first official photo. Everything else has already been revealed... except, of course, whether or not Stormi is a nickname.
Check out Romper's new video series, Bearing The Motherload, where disagreeing parents from different sides of an issue sit down with a mediator and talk about how to support (and not judge) each other's parenting perspectives. New episodes air Mondays on Facebook.