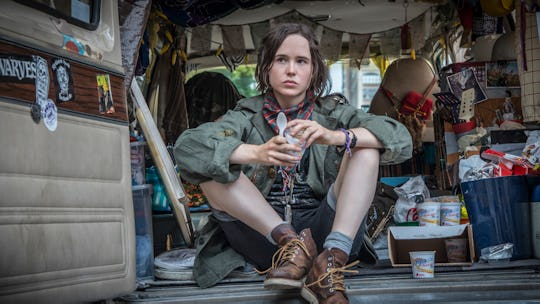 David Newsom/Netflix
Is 'Tallulah' Based On A True Story? The Writer Pens From Her Own Experiences
Ellen Page is back, starring in a new Netflix movie where she plays the titular character, Tallulah, who kidnaps a toddler who's mother passes out drunk in the hotel room she's staying in. The film has a star studded cast that includes Allison Janey, who plays Tallulah's boyfriend's mother, Margo, and Tammy Blanchard, who plays the baby's mother, Carolyn. The film was written and directed by Sian Heder who also writes for Netflix's hit show, Orange Is the New Black. Tallulah is a very moving movie that asks the question what makes a good or bad mother and some have begun to wonder if Tallulah is based on a true story.
The truth is it kind of is. According to The L.A. Times, when Heder first got to Hollywood she worked as an on-call babysitter to make ends meet while she pursued her dream to be an actress/screenwriter. She would go to hotels and babysit for guests in four-star hotels and when one night she was asked to do a job at the Four Seasons Hotel in Beverly Hills. When Heder arrived there the woman seemed drunk and/or high, the room was a mess even though she'd only been there for a day, and she'd come to have an affair.
The woman didn't know how to take care of her child who she'd never had to take care of on her own before and Heder was tempted to take the child with her. When Heder went to the concierge about the unsafe conditions she felt the child was in the concierge told her there was nothing that could be done because their were no real signs of abuse. This experience led Heder to write her short film, "Mother."
Heder told The L.A. Times that she had another idea about a young girl who lived out of her van and combined that with "Mother," to make Tallulah. Heder said Tallulah really explores the question of who's meant to become a mother and that's clear through the different characters Page, Janey, and Blanchard portray in the film.
You can watch Tallulah on Netflix beginning on July 29.