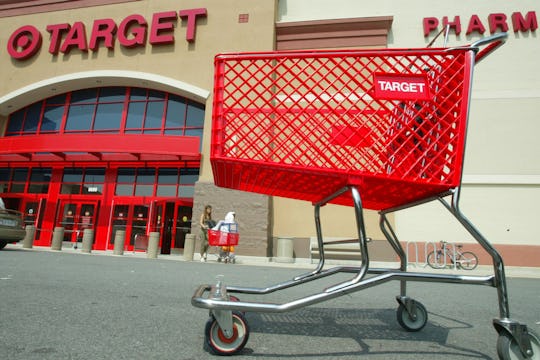 Alex Wong/Getty Images News/Getty Images
If You're Hoping For A Target Run On Columbus Day, You're In Luck
Columbus Day is on its way, and residents in some states will find they have a three-day weekend that calls for a quick run to their neighborhood Target to stock up. Scheduled each year for the second Monday of October, this federal holiday is only sporadically observed around the country, so it can be important to know which retailers will be shutting their doors in observation. A regular Target fix is essential for families — and who doesn't sometimes indulge in a solo Sunday stroll through the beauty section — so is Target open on Columbus Day or what?
The good news is that yes, Target (formally known as Tarjay) will welcome you with open arms during its regular business hours on the federal holiday. Should you find yourself in desperate need for kid snacks or some art supplies to keep your little ones occupied — because only federal employees, bankers, and most students are guaranteed the day off — Target has you covered. According to Saving Advice, the retailer only calls it quits for Christmas, Easter, and some of Thanksgiving. Bless them. They always come through when you need them.
According to Pew Research Center, Columbus Day is one of most inconsistently recognized of the 10 federal holidays. Beyond the federal government, banks, and bond markets, every other institution in American life is left to its own devices to determine whether to celebrate the holiday, and it's a real mixed bag. State workers in only 23 states have the day off, which extends to teachers and students, but private institutions in those states can make their own decision about whether to keep office or business hours. Super fun for parents!
But why not indulge in a little retail therapy if you have the day off? Fall is finally descending in some regions of the country, and Target is targeting (heh) grown ladies who love add little warm spice and fall color to their home. How about a spicy pumpkin candle or three to set the mood? Or a dried wreath to announce that autumn is happening inside your house too? Don't forget some moderately priced knick-knacks to replenish your store of seasonal decor — your Thanksgiving tablescape will thank you for getting a jump on it all before it's gone. It's been a long, hot summer so no one would blame you (or me) if we celebrate with a shopping trip to celebrate cooler temps while we are still enjoying them.
Also, Halloween is fast approaching and Target is there for you with costumes, spooky decor, candy, and all the assorted accoutrement that makes All Hallows' Eve super fun for families. Aside from offering an extensive costume selection for all ages, I've depended on the store's creepy/chic light and decor offerings to deck out my SUV for school trunk-or-treats for years. Right now, shoppers can save $5 on a $30 purchase of Halloween stuff, which is even more encouragement to indulge in the spooky spirit on Columbus Day.
While you can check for your local store's next weekly flyer on Sunday, you can also see what other deals are happening online right now. Shoppers can take advantage of all kinds of savings, like up to 25 percent off home goods, furniture, and patio stuff with the promo code OCTOBER. Select floor care appliances are discounted, too, like this iRobot Roomba 690 vacuum that is marked down to $299.99 from $349.99.
If you spend your Columbus Day spending too much money at Target, nobody's going to judge. Just remember Target loves you and that's why employees will be there bright and early on Monday to help you spend your day off in a happy place.