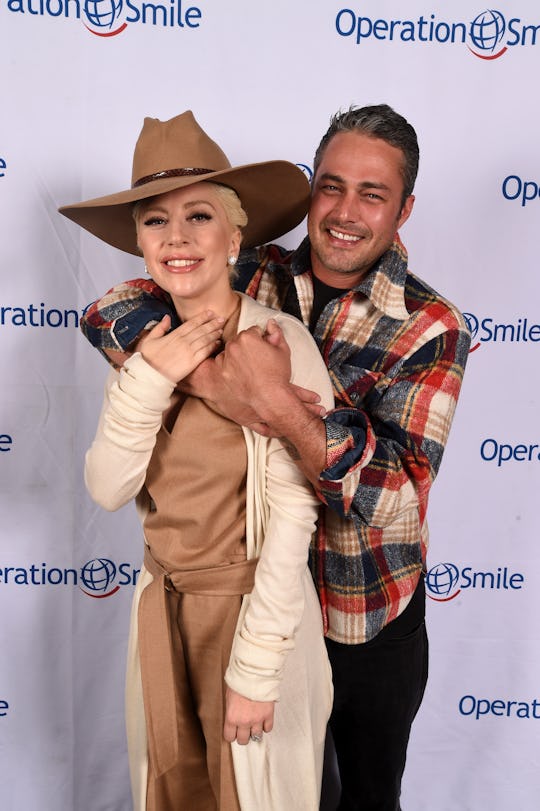 Fred Hayes/Getty Images Entertainment/Getty Images
Is Taylor Kinney At Super Bowl 51 With Lady Gaga?
It's a big night for Lady Gaga: she is set to perform at the Super Bowl 51 halftime show, and it's pretty safe to say it will be amazing. She'll no doubt be feeling the love from her fans tonight, but there's no word on whether her former flame will also be rooting her on. Is Taylor Kinney at the Super Bowl? The couple called off their engagement in July, but Gaga has said the split was super amicable.
After getting engaged on Valentine's Day 2015, Gaga and Kinney's relationship seemed totally solid. But in an Instagram post following their split, the singer explained that even though they love each other, "long-distance and complicated schedules" were ultimately taking their toll. According to Vanity Fair, Gaga told Howard Stern in October that they hadn't been on the same page. She said,
I hate to sound like a hippie, but I kind of am one and so is he. We love each other, that's it. It's just about life changes, and we all go through different stages and we're focused on different things.
Gaga also told Stern that even though they are no longer a couple (Kinney is reportedly involved in a new relationship, according to Page Six), she's "very close to Taylor" and that they were still important to one another. Although Gaga hasn't said whether her ex would be there to watch her performance, it sounds like they still have each other's backs.
Lady Gaga has likely been way too busy getting ready for her show to think much about Taylor Kinney, though. She's been sharing behind-the-scenes photos from her Super Bowl prep on Instagram during the lead up to the big day, including snaps from rehearsals and her pre-game photo shoot.
According to The New York Times, Gaga's performance will be introduced by her pal Tony Bennett, and she will also appear in an ad for Tiffany and Co. shortly before her performance. While she's kept the details of her actual show a secret, she did hint that she might be suspended in the air during the show — and possibly even dropping in from the roof.
Fans have speculated which songs she might choose to sing — old Gaga, or new? — but if there's one thing that we know for sure it's that, whatever she decides, she'll be more than prepared. According to People, Lady Gaga said that playing the halftime show has been a dream of hers since she was a young child, which means she's had plenty of time to mull over the details:
I've been planning this since I was 4, so I know exactly what I'm going to do. For me, it's all about giving to the fans and bringing people together that wouldn't normally come together. The thing is, it's such a big world stage in terms of how many people see it and it's been done so many times.
Even though the Super Bowl is an exciting day for football fans, the halftime show makes it a big event for music fans, too. Even if you don't follow the sport, chances are Lady Gaga's performance is one you won't want to miss.