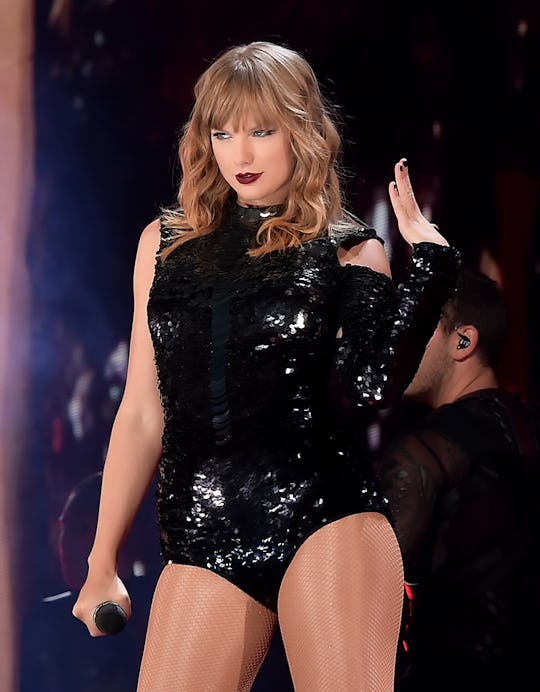 Kevin Winter/Getty Images Entertainment/Getty Images
Taylor Swift Has A Good Reason To Attend The 2018 Billboard Music Awards
It's that exciting time of year for the music industry's top Billboard artists to get together and be honored and recognized for all the amazing work they've contributed throughout the year. The Billboard Music Awards are set to air on Sunday, May 20 at 8 p.m. EST, and there are a ton of pop stars that are confirmed to attend and perform. But if you're a true Swiftie, you're probably wondering, is Taylor Swift at the 2018 Billboard Music Awards?
As of now, there's no confirmation or news on whether Swift will be in attendance, but she is nominated across a number of categories. She's already broken Billboard history by being the most nominated artist ever, but if she wins the coveted Top Artist of the Year award this year, she'll break another record by having three Top Artist wins, the most any Billboard nominee has ever won. This just might be enough of an incentive for Swift to make it to the awards show, giving her a chance to thank her fans as she makes Billboard history.
But because Swift was notably absent from awards shows last year, including the Grammy's, the Country Music Awards, the American Music Awards, and the 2017 Billboard Music Awards, fans are anxious to see whether she'll continue this path of living low-key. With all the exploitative drama surrounding her, along with the overexposure and constant chaos, People reported that in 2017, Swift had consciously decided to disappear from the public eye. With 2017 behind her, fans are hoping to see more of her, and with the jump start of her new tour this month, they'll definitely get the chance to.
Her tour, Taylor Swift's Reputation Stadium Tour, will have her performing all over the country this year, and according to MTV, it's one of highest grossing tours in recent history. A little bit of optimism for fans hoping to see her at the BBMA's is that she has no performances scheduled for May 20, and will be performing just a few hours away from the BBMA venue the day before.
According to the tour page, on May 19 Swift's tour stops at the Rose Bowl in Pasadena, California. With the BBMA's being held at the MGM Grand Garden Arena in Las Vegas, it could be pretty convenient for her to actually make it to the awards ceremony. Plus, Swift has been nominated for five different Billboard awards this year — Top Artist, Top Female Artist, Top Billboard 200 Artist, Top Billboard 200 Album, and Top Selling Album — giving her plenty of incentive to attend.
The Billboard Music Awards always brings the music and artist to life at the show, with amazing collaborations and performances, and it looks like Billboard is pulling out all the stops this year. With Kelly Clarkson hosting, there will be a number of exciting performances, including a duet from Christina Aguilera and Demi Lovato, a live performance from Dublin by Ed Sheeran, a collaboration from Zedd, Maren Morris and Grey, and performances by Camila Cabello, Shawn Mendes, John Legend, Dua Lipa, BTS, and this year's Icon Award recipient, the legendary, Janet Jackson (that's Miss Jackson if you're nasty).
With all the constant paparazzi and tabloid drama Swift has to deal with, I can't blame her for wanting to take a break. But a year has passed, she has a new tour, and her fans are eager to see her tear up the red carpet again. So while there is no official word on her attendance, you can still keep an eye on her official Twitter and Instagram accounts for clues. The show itself will be full of amazing performances to enjoy, and you'll still be able to cheer her on when she wins.