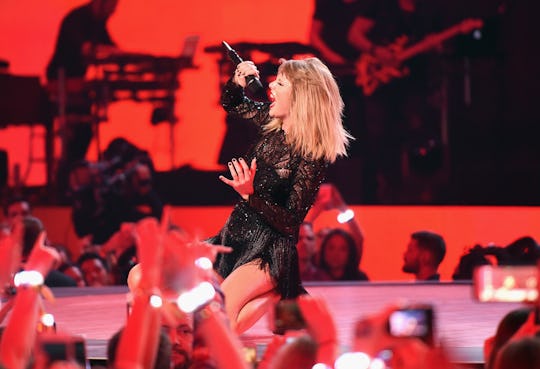 Kevin Winter/Getty Images Entertainment/Getty Images
Fans Are Missing Taylor Swift At The Billboard Music Awards
It's no secret that, even when she's purposefully staying out the of the spotlight, Taylor Swift still manages to make headlines. And while she's hiding away, working on new music and probably baking up a storm, more and more speculation is being made about that alleged "feud" between the 10-time Grammy winner and Katy Perry. With the release of Perry's new collaboration with Nicki Minaj, which some are hailing to be the ultimate shade toward Swift, many are wondering if Swift will soon make a public reappearance. So, after remaining relatively quiet on social media for months now, is Taylor Swift at the Billboard Music Awards tonight? Unfortunately, it seems as though the reigning Queen of the show might sit this one out.
With a grand total of 21 BBMA's under her belt, Swift is the current awards record holder of the show, although Rihanna could change all of that if she wins 10 more tonight. But, much like the star's Instagram page, which is usually rife with picturesque forays into the singer-songwriter's life but has been pretty quiet recently, it seems as though Swift won't be showing up at the BBMA's tonight after all (unless she employs some serious Beyoncé-like sneaking skills and shows up unannounced on the red carpet or event stage).
Neither the singer nor her rep have announced Swift's appearance at the show, so it's starting to look as though fans might have to hold out a little longer to get more of Swift's red carpet fierceness.
Back in 2016, Swift revealed to Vogue that she was taking a break from the spotlight, trying to relieve some of the stress and pressure she previously felt to release a new album every two years. The singer also made it a point to call out all of those who criticized her for having any romantic interests:
You know, I went out on a normal amount of dates in my early 20s, and I got absolutely slaughtered for it. And it took a lot of hard work and altering my decision-making. I didn't date for two and a half years. Should I have had to do that? No.
Truly, Swift has been put through the ringer for just about everything you can imagine. Her dating and her lack of dating; her lack of female friends and her girl squad; her lack of political involvement and her political involvement. From a public perspective, it seems that criticizing Taylor Swift is almost a national pastime. So, while she might not be at the BBMA's tonight, she sort of deserves that privacy.
Swift secluded herself for a reason, and her choice to not show up at the BBMAs on Sunday night shows that she's not quite ready to come out of "hiding," as it were. When she does, it'll be on her terms.