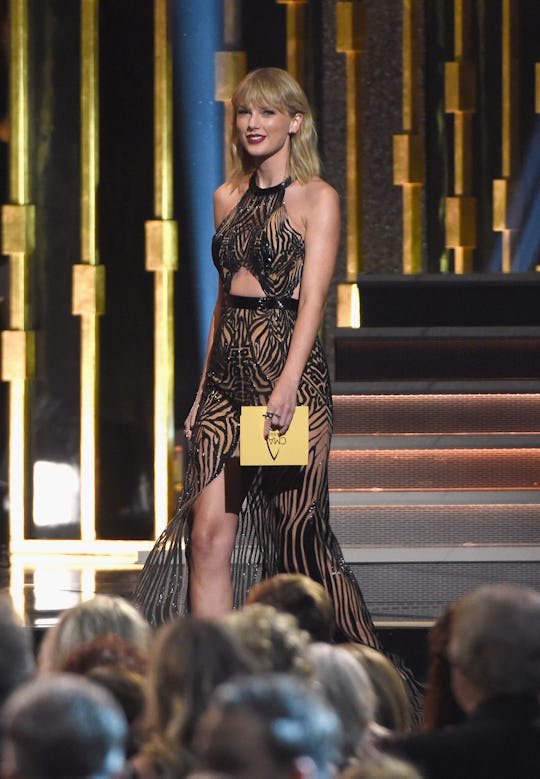 Rick Diamond/Getty Images Entertainment/Getty Images
Is Taylor Swift Eligible For The 2017 Grammys? Her Fans Will Be Disappointed
If you're anything like me, raised on telenovelas, you love to watch drama unfold on the small screen. And while reality TV *might be* scripted these days, awards shows are still unpredictable. Who knows what interactions will pop off at the 2017 Grammy awards, specifically with songstress, Taylor Swift. Drama tends to ensue anytime that girl is anywhere near the microphone at an awards show. Isn't that right, Kanye? She stuck up for herself at the Grammys last year, and I would love to hear her opinion on being "Famous" this year. The "Blank Space" singer has won many Grammys in her time, but is Taylor Swift eligible for a 2017 Grammy this year? A.k.a., will I hypothetically get to drink some good 'ol Kanye West "haterade" in 2017?
Well, while we don't know if she'll be there, present, at the Grammy Awards, she definitely won't be nominated. Apparently, to be nominated for the 59th Annual Grammy Awards, "albums must be released between October 1, 2015 and September 30, 2016." T. Swift has definitely missed that deadline. The pop princess' last full-length album, 1989, was released in 2014. Welp.
But don't start stabbing heart-shaped cakes yet, Swift fans. There's always the chance that the singer will just be a guest of the show... maybe a presenter? Let's be honest, Swift always drops the mic when presenting at an award show.
There is the song Swift co-wrote, "This Is What You Came For", that could make things interesting this time around. Swift wrote the song with her former boo, Calvin Harris, under the pseudonym Nils Sjöberg. That song was released on April 29, 2016, making it eligible for a "Song Of The Year" nomination. And more importantly, making the drama I've been seeking possible! It would be entertaining indeed to see the singer notorious for breakup songs have to accept an award alongside an ex.
Yes, yes, yasssssss. "Now we've got [irony AND] bad blood!" I can see the former love birds transforming into awkward turtles as I type.
This uncomfortable fantasy might only exist in my "wildest dreams," but the good news is that you might see the "Bad Blood" artist perform regardless of a nomination. Hollywood Life has been told exclusively that Taylor Swift and Drake could be taking the stage together for a performance. We'll have to wait and see just how true that rumor is, but a girl can dream, right?