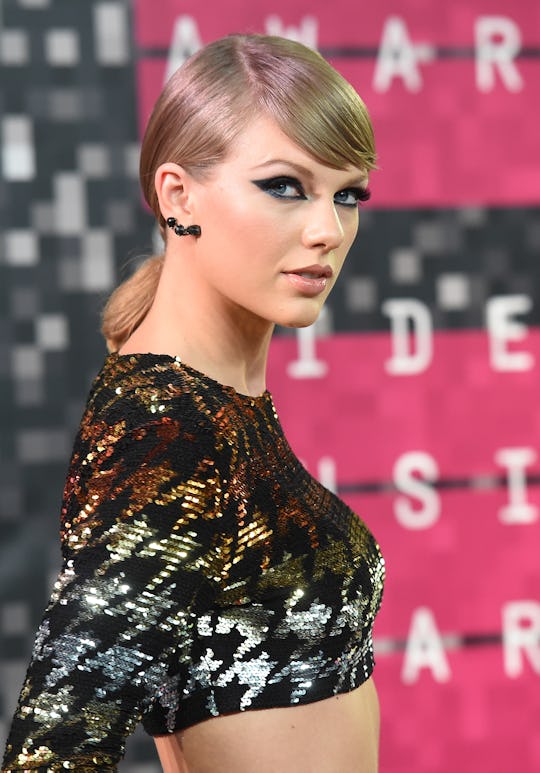 Jason Merritt/Getty Images Entertainment/Getty Images
Is Taylor Swift Going To The 2016 VMAs? She May Stay Away From The Drama
The VMAs have always been a touchy subject for Taylor Swift. It was back at the 2009 VMAs where Kanye West interrupted Swift's acceptance speech for Best Female Video and made his infamous speech about Beyoncé having the greatest music video of all time ("Single Ladies"). Since then Swift and West have been in an ongoing feud, although last year it was Swift that presented West with his Video Vanguard Award at the VMAs last year. This year the two are on the outs again thanks to West's "Famous" music video, which was nominated for multiple VMAs this year. So is Taylor Swift attending the 2016 VMAs, even though she isn't nominated herself? Or will she skip out on this year's event.
Right now it's unclear whether or not Swift will be making an appearance. She's not scheduled to perform at the show, she's not nominated, and she hasn't said anything about the awards ceremony yet. It wouldn't be all that surprising if Swift skipped the event, especially since she's fallen under a lot of scrutiny lately. This has not been the best summer for Swift. First she and her boyfriend, Calvin Harris, broke-up and although it seemed amicable at first things quickly went sour when Harris called out Swift for trying to make him out to be the bad guy in the press.
After it was revealed that Swift wrote Harris' VMA nominated song, "This Is What You Came For," it seemed like the media was trying to say Harris didn't give Swift the credit she deserved. Harris quickly shut that down explaining that Swift didn't want credit, which is why she wrote the song under a pysyuendom. He then ended his now deleted Twitter rant stating, "I know you're [Swift] off tour and you need someone new to try and bury like Katy ETC but I'm not that guy, sorry. I won't allow it." Ouch!
Soon after that Kim Kardashian decided she was tired of Swift playing the victim and claiming she had no idea about "Famous." In a series of videos on her Snapchat, Kardashian revealed a phone call between West and Swift, where West informs Swift about the song he's working on. Swift quickly received backlash, with people leaving snake emojis on her Instagram and calling her a liar. Although Swift responded to the videos, her public image definitely took a hit from Kardashian's revelation.
Could it be possible that Swift is trying to avoid more public scrutiny by avoiding the VMAs or will she actually show up, causing more drama to ensue? Honestly, I'm hoping for the drama. We'll just have to tune in to MTV on Sunday, August 28 at 9 p.m. EST to see if Swift v. West continues.