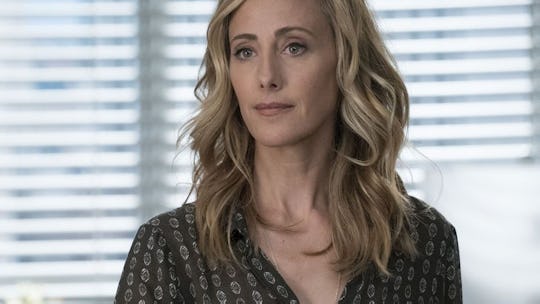 Richard Cartwright/ABC
Teddy Delivered A Shocking Surprise On 'Grey's Anatomy'
The Grey's Anatomy season finale seemed pretty tame compared to other finales in the past. At least, until the very end. Then a surprising twist came that has fans asking is Teddy pregnant with Owen's baby on Grey's Anatomy?
Fans should've known something was up when Teddy randomly showed up at Grey Sloan Memorial Hospital, but after Bailey pulled her in to assist in an emergency heart surgery, there wasn't really a lot of time for questions. However, once they got into the operating room, Teddy revealed that she wasn't in Seattle for Jo and Alex's wedding — she actually came to ask Bailey for a job.
While this was a little surprising, especially since she gave Owen a whole speech not all that long ago about how she was pretty happy with her life and didn't want to move, fans still weren't really all that concerned. Perhaps it was because everyone was just distracted by the mess that was Jo and Alex's wedding, but honestly, looking back now, all the clues were there.
Regardless, it was still quite shocking when at the end of the episode Teddy started crying while watching her patient's daughter get married. Teddy moved a hand to her stomach, and her patient (guest star Tisha Campbell-Martin) asked her what fans were now all thinking: "Are you expecting?" To which Teddy said, "Yes." Oh boy!
With that bombshell dropped it wasn't a huge jump for fans to assume the baby is Owen's. It wasn't all that long ago when Owen visited and Teddy and they slept together so the timeline certainly fits. Plus, her move back to Seattle makes complete sense if Owen is the father of her baby. Although Teddy may be tired of being Owen's second choice, she also probably loves and cares about him enough to want to raise this baby with him. The only problem is after Teddy found out it was Amelia who told Owen to be with her, Teddy sent him away and it appears she may have sent him right back into Amelia's arms.
At Jo and Alex's wedding Amelia kept accusing Meredith of being secretly in love, first with Alex, and then with Jo. However, Meredith pointed out that Amelia was probably just projecting her own secret feelings for Owen onto her. Once that seed was planted, it was obvious Amelia couldn't stop thinking about it. Was she still in love with Owen? All signs point to yes. So much so that Betty even asked Owen what exactly was going on with him and Amelia.
Owen tried to brush off as if nothing was going on, even though anyone with eyes could see they still have feelings for each other. Thankfully, Betty was pretty blunt about the whole thing and told him if they didn't have feelings for each other then their living situation was pretty "weird." I'd have to agree.
Later on, when Jo and Alex finally did get married, Amelia was seen wearing Owen's suit jacket and they both shared a look that, to put it simply, was definitely heart eyes. These two are so obviously in love with each other it's almost ridiculous. That's why it'll be super awkward when they get back home to discover that Teddy is pregnant and the baby is most likely Owen's. It seems that Amelia and Owen just can't catch a break.
If Teddy's baby is Owen's, which is most likely the case, then Amelia will have to decide if that's something she wants to be a part of. Realistically, Amelia and Owen are already playing house with Betty and Leo, so what's one more baby in the mix, right? Except this baby comes with the package deal of Teddy, and if Owen were to marry Teddy he could finally have the family he's always wanted. Unfortunately, fans are just going to have to wait until Season 15 to find out how this will all play out.