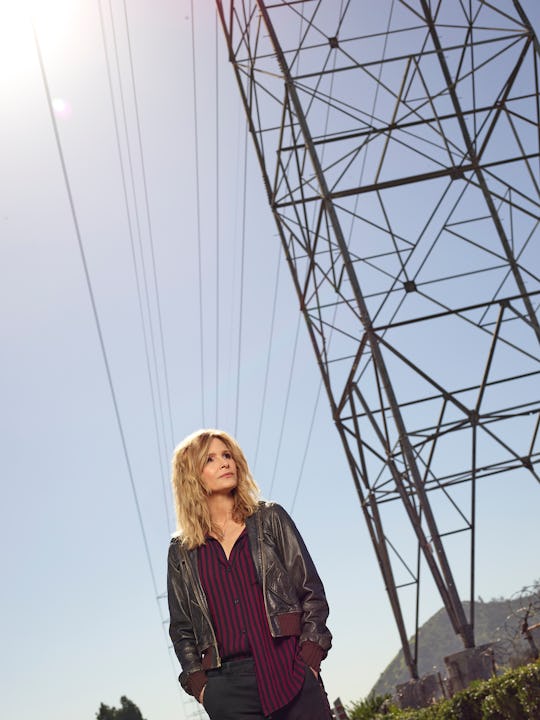 Bob D'Amico/ABC
The Inspiration Behind 'Ten Days In The Valley' May Surprise You
ABC's upcoming series Ten Days in the Valley follows television producer Jane Sadler (played by Kyra Sedgwick), who is working on a crime-centric scripted show while a very real crime is dominating her off-set life. In a promo for the series, Jane promises that her show will say something scary and something true, but what about the real show? Is Ten Days in the Valley based on a true story?
While none of the events of the show are taken from real life, the idea did come from something in series creator and showrunner Tassie Cameron's real life. Only it wasn't anything that happened to her; it was a dream. Cameron had suffered a recurring nightmare about her daughter going missing while she was off working in the family shed just 10 feet away from the house, which then became the premise of Ten Days in the Valley. In the first episode, which premieres this Sunday, Oct. 1, Sedgwick's Jane has to do some middle-of-the-night writing in a shed that looks more like a beautiful cottage, but when she returns to her house she finds that her daughter is gone. Her life spirals into disaster after that.
Cameron told TVGuide that she decided to "write [her nightmare] out of her system" since it had been bothering her so much. "I think my shrink would probably say [the dream was a product of] the pressures and worries about being [a mother] and juggling a career," Cameron said. The feelings her nightmare brought up and the very relevant themes it touched on ended up contributing a lot to the show.
Jane isn't based on Cameron, despite the inspiration for the show springing from Cameron's nightmare scenario, but it was important for her to be authentic. But while it may have been necessary for Jane to have real problems and real flaws, writing her still wasn't the easiest process to go through. "When we talk about a flawed or complex female character, I had to go through a lot of soul-searching to be able to write a character this complicated," Cameron said on a panel for the Tribeca TV Festival, according to The Hollywood Reporter. "It took a long time before I felt brave enough to share it with anybody."
Though Jane is fictional, many of her characteristics and the issues she faced resonated with Sedgwick as well. While appearing on IndieWire's podcast Turn It On, she mentioned that she was intrigued by the show's premise, particularly the "inherent guilt that comes with being a mother. Especially when you work, you feel guilty already. I felt that way. it's every parent's worst nightmare. You go out to work, your kid's sleeping in the middle of the night and you're asked to do this Herculean task. Then you think you've dotted all your i's and made sure the child is safe." Hopefully Jane's realistic qualities hit home with audiences as well, even if they don't have to deal with situations as fraught as the ones she finds herself in.
And there are many difficulties in Jane's life. The show doesn't just follow major events like the disappearance of her daughter, but also other issues in her personal life such as slut-shaming and an ongoing drug problem. There is also Jane's career to contend with, which causes problems that extend beyond trying to find a work-life balance. She has a penchant for stealing stories from real life to use in her fictional series, and the people whose stories she's using probably won't be too happy about that.
One of Jane's shows might be more likely to be based on a true story, but Ten Days in the Valley certainly isn't.
Watch Romper's new video series, Romper's Doula Diaries:
Check out the entire Romper's Doula Diaries series and other videos on Facebook and the Bustle app across Apple TV, Roku, and Amazon Fire TV.