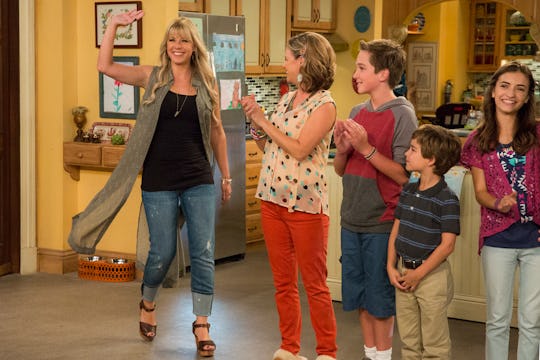 Michael Yarish/Netflix
Is That Really Jodie Sweetin Singing "Forever" On 'Fuller House'?
Hold onto your Tiger Beats! If you thought the premiere of Fuller House couldn't have any more Full House references, think again. Uncle Jesse, played by "of course I'll eat Greek yogurt because he is too" John Stamos, reprises his role on Fuller House and he's brought his bandmates with him. That's right. Jesse and the Rippers sing the 1990s love anthem of my heart, "Forever." Not only that, but Stephanie Tanner steps up to the mic next to her uncle. But is that really Jodie Sweetin singing "Forever?"
The song doesn't get any kind of official credit in the end credits of the premiere episode, so there's no way to know for sure if that's actually Sweetin performing. But, by all accounts, it looks and sounds as though it's really her; her singing voice doesn't sound any different than her speaking voice and, if we have to honest — Sweetin sounds just lovely! In the 20-plus years since Full House wrapped, the spunky Tanner middle child has done a lot of growing up: She's become a jet-setting DJ — in fact, her DJ name is DJ Tanner and it's kind of amazing — who's happily living the single, unattached life in Fuller House.
Unfortunately for Sweetin, her real life after Full House ended was far more troublesome as she began drinking at the age of 14, kicking off a 15-year drug and alcohol habit — a much darker story of the last 20 years compared to what Stephanie Tanner has been up to. Sweetin has been sober since 2008 and wrote about her battle with drugs and alcohol in her 2009 memoir, unSweetined. Although Sweetin hasn't been so lucky in love — she's had three short marriages that each ended in divorce — she is mom to two little girls, Zoie and Beatrix.
Sweetin does have a little bit of actual musical background, having performed in the musical theatre program at Orange County School of the Arts. Sweetin happened to be in the program at the same time as Glee actor Matthew Morrison. Her time at the Orange County School of the Arts seems to be Sweetin's biggest foray into music — it doesn't as though like she's done anything major musically since then. Which, is a shame — because if her brief vocal backing on "Forever" is any indication, Sweetin has a truly lovely singing voice.
Maybe Fuller House will help Sweetin launch a musical second act to her career? Who knows. Until then, we only can relish in Stephanie Tanner's brief backing vocals of the Full House rock anthem. Feel the need to rock out, too? Ask and ye shall receive: Behold, the official Full House "Forever" music video:
Richard Marx, eat your heart out.
The entire first season of Fuller House available now for streaming on Netflix.