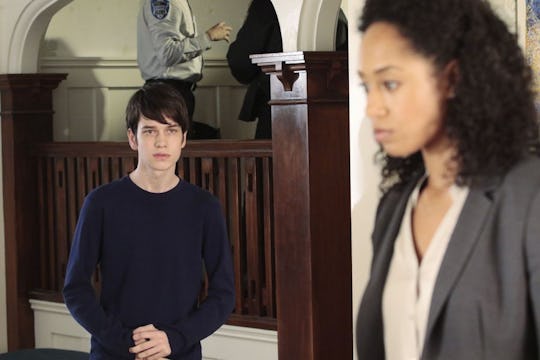 Giovanni Rufino/ABC
Is That The Real Adam On 'The Family'? Both Theories Have Solid Arguments
ABC's newest thriller The Family premiered on Thursday night and buzz surrounding its mystery has already begun. The suspenseful, twist-filled show is about Adam Warren, who has supposedly returned to his family after disappearing a decade ago. There are a lot of secrets on the show, but none greater than the mystery of Adam's identity. Is Adam really Adam on The Family, or have the Warrens just welcomed an imposter into their home.
At the time of his disappearance, Adam was eight-years-old. A neighbor and sex offender, Hank, confessed to murdering Adam and was swiftly convicted. While Adam's body was never found, the case was considered closed. So, imagine how shocked the Warrens and those involved in the case were when the now 18-year-old "Adam" appears at the police station in the pilot. Despite skepticism, a DNA test confirmed he is Adam, and Hank — his supposed murderer — was release from prison. Naturally, some of the Warrens are skeptical about Adam's real identity.
In the pilot, we see Adam's father, John, warn his wife Claire that "Adam" may be an imposter — not only fooling them, but perhaps other families, as well. His brother, Danny, was also not convinced that Adam was really who he said he was. During a conversation, Adam asked Danny how a ship in a bottle gets inside of the bottle. From the first scene of the show, we saw that eight-year-old Adam enjoyed his ship in a bottle, and obviously knew how to make it. But when the 18-year-old Adam doesn't know about the ship in a bottle, Danny feels as though Adam has changed — or, rather, that he is not actually Adam.
Despite this, Adam's sister Willa believed Adam's identity due to the DNA test. She commented that he may not remember details about bottle ships because of the trauma he endured for a decade — a fair assessment for someone who has supposedly been disconnected for 10 years.
Creator Jenna Bans spoke to TV Guide about the series, shedding some light on where Adam could have emerged from after all these years. She said, "There is, I would say, a corporate conspiracy."
It's not much to go on, but the word "conspiracy" says a lot for fans that are paranoid about Adam's identity. And if you think there's something supernatural going on, cross that theory off your list. Bans confirmed that there is nothing magical about the show. Instead she said, "They're just people doing things for what they feel are for the right reasons at the time. That's the overall feel of the show. We try to understand their reasons and why they did things, which for me are always the best mysteries to watch."
Joan Allen, who plays Claire, also spoke about The Family's lack of tease-factor. According to Allen, the show will not tease you like other shows do in terms of mysteries. She said, "It's not going to string you along to the point where you're frustrated," which is comforting to know, as the show is on a network known for cliffhangers.
By the end of the first episode, it is still unclear if Adam is really Adam. Thursday night's episode leaves viewers feeling that no one is to be trusted — not Adam, the Warrens, or Hank. Let's hope we'll eventually learn Adam's true identity, and put this mystery to rest.