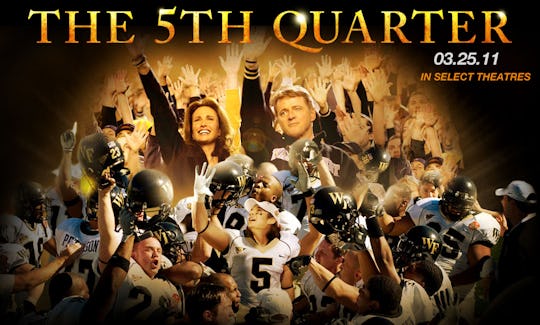 The Hallmark Channel
The Story Behind 'The 5th Quarter' Will Make You Cry
Fall is the time for cozying up with pumpkin spice lattes and watching Hallmark Channel movies and Hallmark knows that. Shows like The 5th Quarter will now be available on their streaming service. Is The 5th Quarter based on a true story? Get your tissues ready, folks.
Yes, The 5th Quarter is based off real-life events. In February 2006, 15-year-old Luke Abbate was killed in a car accident by a reckless teen driver. His family was, understandably, devastated, but his older brother Jon continued to play for the Wake Forest University football team. The linebacker changed his number to No. 5 in honor of his brother's high school jersey.
The Wake Forest team went on to have their best season and Jon insisted that he was "playing for two." Subsequently, his family founded the Luke Abbate 5th Quarter Foundation to raise awareness about reckless driving. According to the foundation's website, Luke lost his life after "the teenage driver of the car chose to speed 77 miles an hour down a steep rural road, losing control and flying off a 70-foot embankment." The family donated Luke's organs so that other people could live, so the foundation also raises awareness about organ donation.
According to the Abbate's story on the foundation website, Jon considered giving up football after his brother died. Instead, he stayed on the team to honor his brother who idolized him. Jon started a tradition during football games: he would signal to his family (sitting in Section 5) by holding out five fingers outstretched. Soon, his team members started to do the same thing. As the season kept going, everyone got involved. At the start of the fifth quarter, Wake Forest's team as well as the rival team, fans in the stands, and at home would hold up five fingers in honor of Luke. That season, the fifth quarter became known as "Luke's quarter."
The Hallmark movie The 5th Quarter is based on Luke's death and Jon's reaction to it in his football playing at Wake Forest. In an interview with We Got This Covered, The 5th Quarter's writer, director, and producer Rick Bieber discussed how he came upon this story. He heard about Jon and Wake Forest's "Cinderella season" when it occurred in 2006, and he met the family through a mutual acquaintance to discuss adapting Jon and Wake Forest's story. Bieber said of The 5th Quarter:
The 5th Quarter is a great sports movie – but that's not what it's about. It's a very dramatic story of how the accidental and tragic death of a teenage boy brought a family, a team, a school and a community together to accomplish much more than could ever be imagined. Football became the symbol of how life continues in often very surprising and inspiring ways. What drew me to the story were the characters involved, and the very resonant and dramatic themes of faith, family, hope and the gift of life.
The film stars Andie MacDowell as Maryanne Abbate, Luke's mother. Aidan Quinn plays Luke's father, Steven Abbate; and Ryan Merriman stars as Jon.
If the description of the story of Luke, Jon, and the Wake Forest football team's 2006 season isn't enough to make you burst into tears, you're in luck: The 5th Quarter will be on Hallmark Movies Now, the networks' streaming service, starting September. What could be better than starting football season with a gut-wrenching — yet inspiring — football story? I know fans of both football and Hallmark movies won't want to miss catching this one while they can.