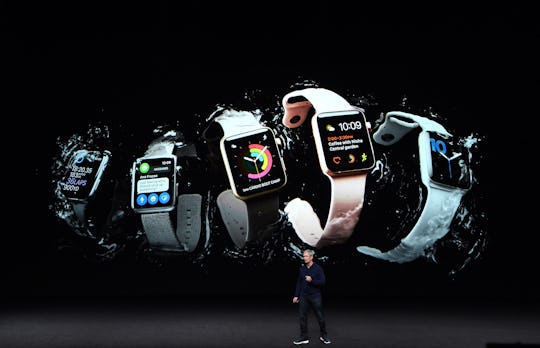 JOSH EDELSON/AFP/Getty Images
Is The Apple Watch 'Pokemon Go' App Similar To The iPhone App?
If you were looking for a good reason to finally cave in and get an Apple Watch, the news that you can play "Pokemon Go" with it is definitely an incentive. And it will also be interesting to see if the Apple Watch "Pokemon Go" app is similar to the iPhone app or if there's going to be a learning curve. Obviously, the screen is a little smaller but according to the company's launch event this week, the app will be pretty much the same and give you all the information you need to catch a few Pokemon. The screen will display how far you have to walk to hatch an egg, how many experience points you need to move to the next level, where the closest Pokestop in addition to some information about your own fitness.
You can play the game all on the watch and never have to look at your phone, which means you can still email and text without interrupting the hunt. Until you actually want to catch a Pokemon — which is a pretty big flaw, since the purpose of a watch is that it's handsfree. Playing the game on the watch might too much of a hassle to make it a real feature for anyone.
That's sort of a shame, but the addition of the app seems like a last ditch effort to increase sales. The current version of the Apple Watch isn't doing very well — sales more than halved over the summer.
But the addition of new apps on their devices is something Apple seems to be focusing on, given the runaway success of "Pokemon Go" this year. For the new iPhone, the biggest news (besides the lack of a headphone jack, of course) was that there would be a Super Mario Bros. app just for the phone called Super Mario Run. It won't be like the original but it is probably going to be pretty awesome. Nintendo's designer, Shigeru Miyamoto, who was responsible for games like Donkey Kong, told The Verge that the mobile game was inspired by the "Pokemon Go" craze and keeping things light.
"With Mario, what we're looking at is simple game play, one-handed gameplay; shorter play time, playing in shorter bursts; and then really bringing the joy of Mario to that much larger audience," he said.
The "Pokemon Go" app for the Apple Watch is a cool addition. But a Mario game on the iPhone? That's epic, and exclusive to Apple for the time being. Both apps will be available later this year.