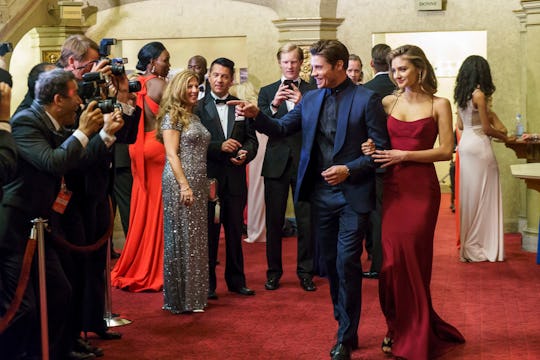 Daniel Power/E! Entertainment
'The Arrangement' & Scientology Feel Linked
The plot of E!'s newest scripted series, The Arrangement, seems familiar to some early fans. The show follows young Hollywood starlet Megan Morrison (Christine Evangelista) as she tries to make her way to the big screen. She goes on an audition for the new Kyle West (Josh Henderson) film where she gets to meet the movie star and they quickly end up hooking up. Kyle is part of The Institute of the Higher Mind, which has led many people to wonder if The Arrangement is based on Scientology. (Romper has reached out to representatives for the Church of Scientology, but have yet to hear back.)
According to the website, Scientology is "a religion that offers a precise path leading to a complete and certain understanding of one's true spiritual nature and one's relationship to self, family, groups, Mankind, all life forms, the material universe, the spiritual universe and the Supreme Being." The school of thought was founded by American science fiction writer L. Ron Hubbard back in 1955 and many celebs have been known to subscribe to the religion, most notably Tom Cruise. There's been a lot of controversy surrounding the religion and actress Leah Remini is very outspoken about her time as a follower of Scientology and continues to speak against it.
On The Arrangement, The Institute of the Higher Mind definitely has some similarities to Scientology. It's led by Kyle's friend Terrence Anderson (Michael Vartan) and as Kyle explains, the Institute puts a focus on bettering yourself by leaving your past behind. There's also some sketchy stuff surrounding the Institute, which the first season will surely dive into.
Despite the similarities, though, the cast is adamant about the fact that the show is not actually based on Scientology or Cruise. "You can see the comparisons considering Tom [Cruise's] and actor, Kyle West is an actor," Henderson stated during an interview with E! News. "They're both huge film stars... you know it's set in Hollywood, it's set in the entertainment industry, but at the end of the day we're really telling our own unique story."
Evangelista also chimed in, adding:
Very soon early on you'll see that these people have their own history, their own relationship, and we're not deriving it from any actual people.
Evangelista is referring to the suggestion that the arrangement between the two central characters is based on the marriage between Cruise and Katie Holmes, the latter of which started out as a TV star, just like Evangelista's character did.
However, according to TV Guide, executive producer Jonathan Abrahams has confirmed that the show isn't based off Cruise and Holmes and has nothing to do with Scientology. Apparently the Institute of The Higher Mind isn't even a religious institution and shouldn't be considered as one.
Whether you believe it or not, The Arrangement is meant to be it's own show, with no basis on two of Hollywood's biggest stars or Scientology. However, I doubt that'll stop more comparisons from being made once the show airs.
The Arrangement premieres on Sunday, March 5 at 10 p.m. ET on E!, but you can also watch the pilot episode On Demand.