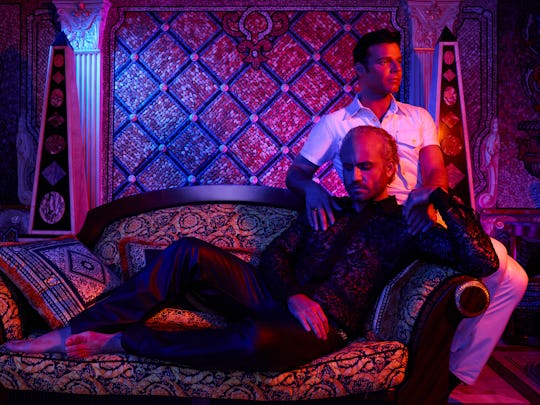 Pari Dukovic/FX
'The Assassination of Gianni Versace' Gets Inside The Mind Of A Killer
American Crime Story has focused on real events since its inception. When its first season revisited the O.J. Simpson murder trial, it was able to unearth new revelations about a case that everyone thought they already knew everything about. Its second season might do the same thing. So is The Assassination of Gianni Versace based on a true story? Much like how Season 1 was based on Jeffrey Toobin's book The Run of His Life, FX's Versace-centric sophomore season is based on Maureen Orth's book Vulgar Favors: Andrew Cunanan, Gianni Versace, and the Largest Failed Manhunt in U.S. History.
Versace has been a major fashion brand for decades, and its chief designer Donatella Versace is a pop culture icon. Maybe you were first introduced to the lady herself in an interview or article, but it's more likely that you remember Maya Rudolph's SNL impression or Lady Gaga paying homage in her song "Donatella." But Donatella was not the person who originally founded the brand; that was her brother Gianni, whose shocking murder forms the foundation of Season 2.
It is true that Gianni Versace was shot and killed on the steps of his Miami Beach home in 1997, the final victim of Andrew Cunanan. However, the Versace family has released a statement, as reported by Entertainment Weekly, ahead of the show's premiere, revealing that they consider the project to be "a work of fiction." This prompted FX and 20th Century Fox to release a statement of their own, revealing that they "stand by the meticulous reporting of Ms. Orth." Since then, the Versace family has released a second statement, saying in part that "Orth never received any information from the Versace family and she has no basis to make claims about the intimate personal life of Gianni Versace or other family members."
So while the show is based on true events, it's important to remember that this is a fictionalized series using secondary sources for information. This is especially true when it comes to trying to figure out Cunanan's motives since he never actually offered an explanation.
Versace wasn't Cunanan's only victim, though he was the most famous. Cunanan was accused of killing four other men before gunning down Versace, though he was never officially convicted due to his suicide shortly after Versace's death. But according to executive producer Brad Simpson, the show will spend time with all of Cunanan's other victims. "Versace was [Cunanan's] obsession," Simpson told E! News, adding:
He was everything he wanted and couldn't have. The series tracks through those victims. We thought it was important to spend the same amount of time with the less-known victims as it was with the most famous victims. Versace weaves his way in and out of this story, I think, in a great way, but the journey itself is the journey of this killer across the country as he murders people.
Based on what investigators have found, Cunanan's murders began in Minneapolis with his friend Jeffrey Trail, who was beaten to death with a hammer, according to ABC News. The next victim was said to be Cunanan's ex-boyfriend David Madson. Cunanan then traveled to Chicago and killed real estate developer Lee Miglin. The fourth victim was William Reese, who was a caretaker at the Finn's Point National Cemetery in New Jersey. Cunanan shot him and then left with Reese's truck, which he drove down to Miami. He hid there for two months while being pursued by police for his previous crimes before shooting Versace.
After his final murder, Cunanan holed up in a houseboat for eight days before shooting himself in his head. He left behind no explanation of why he did what he did, which leaves it to The Assassination of Gianni Versace to fill in the gaps.
Ryan Murphy explained that the show will use the murders to explore larger themes, just like The People v. O.J. Simpson did. "We're trying to talk about a crime within a social idea," he said, as reported by The Hollywood Reporter. "Versace, who was [Cunanan's] last victim, did not have to die. One of the reasons [Cunanan] was able to make his way across the country and pick off these victims, many of whom were gay, was because of the homophobia at the time."
But despite being based on real events, this is still a fictionalized version of a true story, and fans should always keep that in mind. It wouldn't hurt to be prepared for some dramatic flair.
Check out Romper's new video series, Romper's Doula Diaries:
Watch full episodes of Romper's Doula Diaries on Facebook Watch.