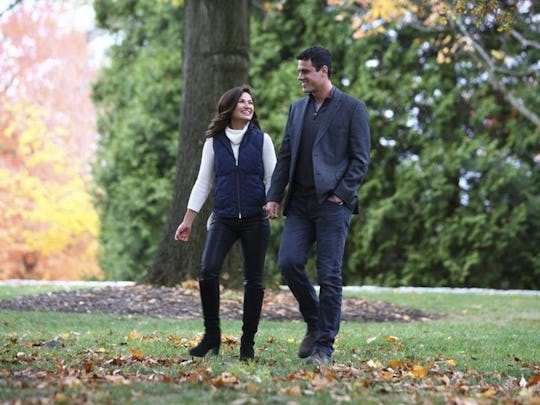 Scott Evans/ABC
Is 'The Bachelor's Caila Quinn Single? She's Open To Finding Love Again
Caila fans everywhere were psyched that Caila Quinn on Bachelor made it pretty far. She even told bachelor Ben Higgins that she loved him — only to be eliminated on Monday, shortly after doing so. (I mean, ouch, but I'm loving her vulnerability.) Now, rumors are swirling that Caila might be the next girl to star on ABC's The Bachelorette, giving her another chance at an on-screen romance. Whether she will or won't be the next Bachelorette remains to be revealed on Monday's finale, but one thing is for sure: Caila Quinn is single, according to People, but open to finding love.
"I'm really happy for JoJo and Lauren," Caila said of Ben and the final two contestants. "They fell hard for Ben and he opened up with them. I want to find someone who feels that passionately about me that he can't help but tell me how he feels. That will happen one day!"
She also told People that she was recovering from her heartbreak on the show, and that watching The Bachelor play out on television has helped. "I can see how his relationship progressed with the other women, so that made it easier for me to understand," she said. "That doesn't mean it wasn't hard. But I do see that Ben is happy and I don't want to live in the past."
Does that mean she would take on the role as the next Bachelorette? "I might do it again, because I did fall in love, and it did work for me," she told ET. It has worked for so many other people before, and that's what I really want in life, and so who cares how you meet somebody as long as they're the right person?"
Sounds to me like she'd be single and willing to take on reality TV again — along with more than 20 suitors — if ABC asked her. According to Us Weekly, she's lined up to be the star of next season's Bachelorette, but fans online have had a vast array of reactions (as one would expect from any show with fiercely loyal fans, of course).
After some time to decompress from The Bachelor, Caila would likely be ready to tackle The Bachelorette — or just to dive back into dating, in general. "I definitely need to take a deep breather for myself and kind of take some me time," she told E!. And yet, she added, "I'm ready for the one and for my best friend and I'm still looking for that."
It's good that she's taking some time for herself before diving back in. In her honor, I'll just be over here singing "All the Single Ladies" until Caila is possibly announced as the next Bachelorette Monday night.