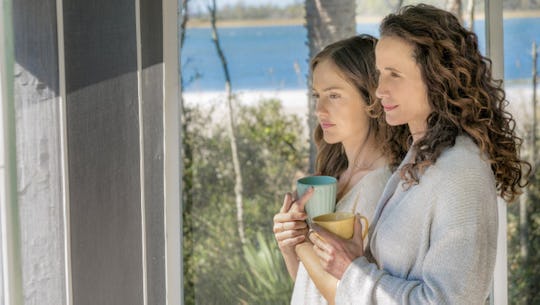 Hallmark
This New Hallmark Movie Will Make You Want To Move To The Beach ASAP
There's nothing like a good Hallmark movie you can watch over and over again. But the network's most recent one is so good, I couldn't help but wonder whether or not The Beach House is based on a true story or not. The movie stars Minka Kelly, Andie MacDowell, Chad Michael Murray, and Makenzie Vega and is about a woman named Cara who finds her life "spinning out of control" after she loses her job in Chicago.
To find some balance, she heads home to visit her mother on Tybee Island, South Carolina, where she becomes a "turtle lady," protecting the endangered sea turtles and reconnects with her first love, all while fixing up her old family home. But while the movie doesn't depict true events that have happened, it is based on a novel by Mary Alice Monroe. Monroe lives in the area and bases all of her novels on the beaches. The characters and stories are all fiction, but each book focuses on an endangered species. Her one book Summer Girls was about bottlenose dolphins, and this one deals with sea turtles.
She told The New York Times, "No one comes to my books to learn about pelicans or turtles. They come for the people, for the emotions. But that's how I hook them.When a character in my books looks a dolphin in the eye," she said, "I have been there." So although the movie and novels are all works of fiction, it comes with some very real issues.
McDowell told Southern Living about how she heard of the project. "I serendipitously met Mary Alice Monroe getting off a plane in the Charleston airport," she explained. "She came up to me and was very exuberant and told me that she had written a book called The Beach House, and she was thinking of me when she created the character of Cara."
So McDowell bought the book at the airport and breezed right through it. "I read it and originally was going to play Cara. But in the book, Cara is around 40 so we were going to make her around 50," she revealed. "Time kept going by and I was just starting to feel uncomfortable about doing that to the story, and thought, let's make Cara younger. Let me play Lovie."
And so that's how she ended up playing the mother to Kelly's younger Cara. The movie centers just as much around them as it does the endangered turtles. McDowell told Parade that she thinks it's about forgiveness, stating:
I think forgiveness is a huge thing in life. If you have the opportunity to work things out with people and say you're sorry and allow for forgiveness, it's one of the most beautiful experiences there is. That's what gets to happen in the story. There's a lot of healing, and also, all of Mary Alice's books have an earthy texture to them.
But of course, you can't forget the animals. McDowell added, "She's very much a conservationist, so that is another big part of it, saving the sea turtles, I really love that part of the movie."
The movie was filmed on Tybee Island and it will definitely make you want to visit the gorgeous beaches and help out the sea turtles as well.
The movie might not be based on a true story, but it does grapple with a lot of harsh realities. Close enough, right?
The Beach House premieres on Saturday, April 28 at 9 p.m. ET on the Hallmark Channel. Don't miss it!
Check out Romper's new video series, Romper's Doula Diaries:
Watch full episodes of Romper's Doula Diaries on Facebook Watch.