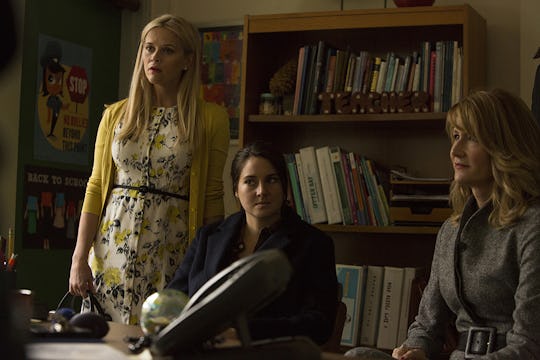 Hilary Bronwyn Gayle/HBO
The 'Big Little Lies' Killer Could Be Anyone
Big Little Lies fans who did not read the novel are probably racking their brains, scheming over who is the victim and killer of Trivia Night. For those of us who read Liane Moriarty's source material, though, we're riding the wave and waiting for that final episode to confirm what we already know. What if, though, the producers completely flip the script? What if that fateful Trivia Night is completely different? It would certainly not be the only difference in the series. So is the Big Little Lies killer the same as the book? There are several theories out there to suggest it's possible. (Warning: spoilers from the novel ahead!)
For the most part, the series has remained pretty faithful to the novel. Major plot points remain stable: Perry is an abusive husband, Jane is a newcomer to Monterey, and was assaulted and the trauma still haunts her. Furthermore, it remains true that Ziggy was conceived from Jane's assault. After the third episode, though, we're still in the dark as to whom the murderer is, which was also the case at this point in the novel. We may be in the right speculating that Perry, the worst character, dies — but who actually kills him is not as easy to figure out.
Vulture has a few theories as to whom kills whom. Most of them center around who else? Perry. They hypothesize that Jane, Madeline, or Celeste could kill him. None of these are far-fetched, given their histories with him (Madeline mostly adjacent, but still — Perry is awful, we wouldn't blame her). More "out there" theories, like Madeline killing Renata, are still rooted in logic. Madeline hates Renata; their feud is only intensifying, so it is certainly a possibility.
These theories, and perhaps others, do not guess the correct murderer: Bonnie. This makes sense, as Bonnie's background is not revealed until way later — and as of now the progression of the show is mostly following that of the novel. The series is notably not an exact adaptation, though. For one, the settings are completely different (California is the prime location in the series even though in the novel everything took place in Australia). With this information about Bonnie kept mum until almost the end of the novel, there's still time for there to be a twist. Perhaps the producers will want to surprise both sets of audiences: those who read the novel and those who didn't. While this may not be the case, there's no knowing for certain. One thing is for sure, though: everyone wants Perry dead. Who does the deed is more up in the air.