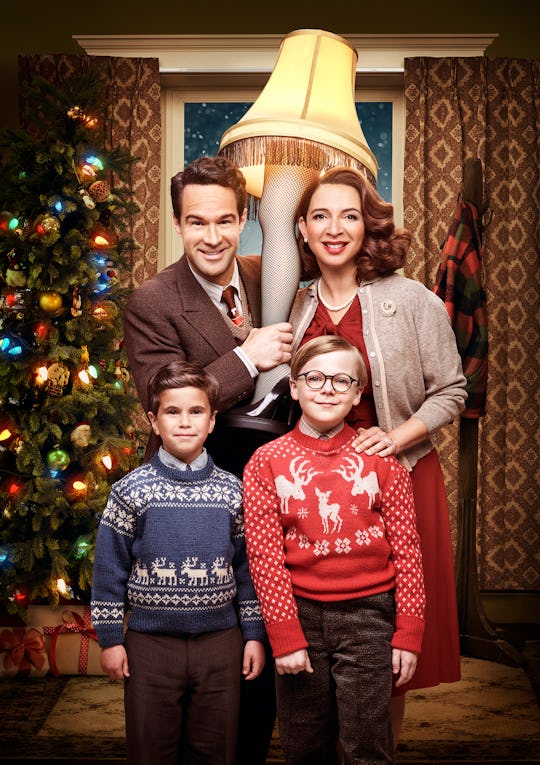 Tommy Garcia/Fox
The Cast Of FOX's 'A Christmas Story Live!' Is Full Of Musical Talent
The newest iteration of the television live musical is actually taken from a movie that wasn't a musical originally. A Christmas Story is a go-to holiday classic for many, and now it's getting an update complete with original songs. But is the cast of A Christmas Story Live! really singing? Some of the more recent TV musicals, like the deeply unnecessary Rocky Horror Picture Show, were pre-recorded. However, with A Christmas Story Live! it's all unfolding as you're watching. The cast is packed with Broadway alums and they definitely know what they're doing.
The 1983 film was the love story between a small child and a BB gun, with a sprinkling of sass and sexy lamps. The new live musical sticks to that story while also adding in plenty of new material and an all-new cast. The songs have been provided by a pair of songwriters with a notable resume: Benj Pasek and Justin Paul are responsible for the musical Dear Evan Hansen and the lyrics to the songs in La La Land. They even won the Oscar for Best Original Song for La La Land's "City of Stars" in 2017.
Bringing the songs of A Christmas Story Live! to life are Maya Rudolph, Matthew Broderick, Jane Krakowski, and Chris Diamantopoulos, among others. They're all actors who have been proven to have the pipes, so singing live is no trouble for them.
Rudolph and Diamontopoulos star as Ralphie's parents, with Krakowksi as Miss Shields and Broderick as the Narrator, who is a grown-up version of Ralphie looking back and commenting on his childhood.
As a former SNL cast member, Rudolph is also a pro at live television. She wasn't worried about that aspect of A Christmas Story Live!, telling Entertainment Weekly that "live actually gives me more adrenaline and energy." However, she has never done a musical before, so even though she had Broadway aspirations, she wasn't quite as familiar with the process.
While Broderick's Broadway experience meant he definitely knew how to handle a musical, he still felt the pressure. "If it was a musical on Broadway, we would have weeks and weeks of previews, so it would all feel very easy," he said in the same Entertainment Weekly interview. "But with this format, your first performance has to be the good one. We don't get to ease into it."
Pasek and Paul first tackled turning A Christmas Story into a musical back in 2009, though it didn't make its official Broadway debut until 2012. It was nominated for Outer Critics Circle Awards, Drama Desk Awards, and Tony Awards, but it didn't end up taking home any of the honors. Though most of the work was already done when it came to translating movie to musical, Pasek and Paul will also be adding a few more songs just for the live TV production.
The Chicago Tribune praised the score and the "emotional honesty" of the musical adaptation, as well as the fact that it stayed fairly true to the film that inspired it in the first place. Now the television version will bring the musical to a whole new audience. The talented cast of much-loved actors should bring enough enthusiasm and ability to the project to breathe new life into an old movie.
A Christmas Story Live! airs just in time for the holiday season on Fox on Sunday, Dec. 17. Those already familiar with the musical can enjoy the newly added tunes, and those who have never experienced it can see a familiar favorite in a totally new way. Perhaps it will even be able to attract a few audience members who have never seen the original film. Hopefully there will be something for everyone when the live musical makes its debut.
Check out Romper's new video series, Romper's Doula Diaries:
Watch full episodes of Romper's Doula Diaries on Facebook Watch.