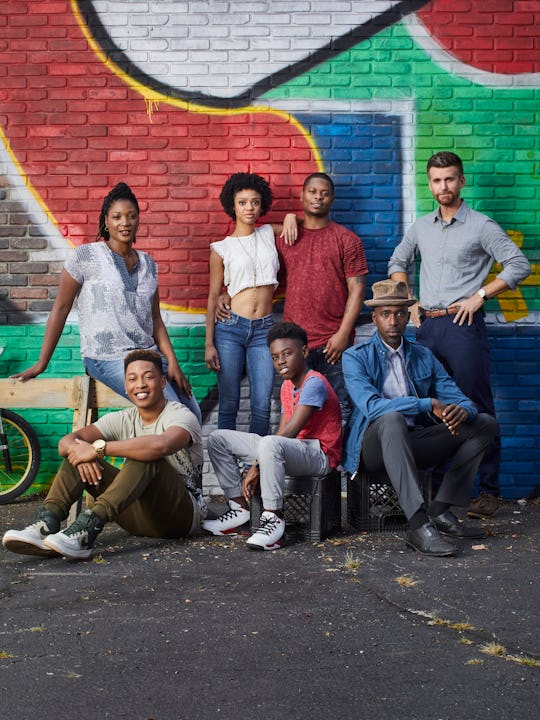 Mathieu Young/Showtime
Showtime's New Series 'The Chi' Explores Chicago's South Side
The new Showtime series The Chi is set to premiere on Jan. 7, but it's already earning positive reviews for its talented cast and intricate storytelling. It focuses on a handful of key characters as it follows them through their everyday life in the South Side of Chicago. But is The Chi based on a true story? The many different plotlines might not all be based on reality, but one can assume that there is an influence from series creator Lena Waithe (of Master of None fame), who is from the South Side of Chicago.
Despite Waithe's personal connection and insider information lending The Chi a feeling of veracity, no character seems to be specifically based on her. She isn't the only person working on the show who is from Chicago either, so it seems that many different perspectives will be contributing to the show. The people behind the scenes spent time in the South Side talking to its residents to give the show an even greater sense of authenticity, too. That means that it's a little harder to pluck out the moments that are taken directly from someone's life, but also gives the show an even fuller point of view that can possibly hit home with even more viewers.
Chi writer Sylvia Jones is also from the South Side and she told The Chicago Tribune:
I talk about the diversity of the South Side — that is the drumbeat that I have held since the day I walked in the writers room, because I've been trying to make sure it's clear that the South Side is not just one big neighborhood. It is a tapestry of many neighborhoods. I tell people, despite what you may see on the news and think the South Side is one big ghetto, you know President Obama lived on the South Side. He and Michelle got married on the South Side. This is a big thing for us, so don't just paint us with one brush as, 'This is all it is — guns, gangs, whatever.'
Jones went on to say that The Chi would cover all the various threads that exist in the place where it's set. There may be crime and some violence, but there was a lot more than that. She explained that it was a slice of life show and had humor, too. It was about representing all walks of life during their daily activities, covering a spectrum of different situations. So while the show isn't based on a real story, it is still realistic. "Some of us just go to work everyday, we cut our grass on Saturdays and grow tomatoes in our gardens, you know what I mean?" Jones said later in the same interview. "Those things resonate."
Part of Waithe's goal, according to Variety, was to show people what her hometown was actually like — the real people behind the headlines. "I think the more the media dehumanizes us, the more people will be desensitized to our deaths; the more people see us as human beings, the more they will value our lives," Waithe told Variety, adding:
So when they hear a story coming out of Chicago about a young black boy being shot and killed, it won't just be background noise, but they will wonder what he had for breakfast that morning. They'll wonder if he had an older brother. They'll wonder what he liked to do for fun. I think when we start doing that as a society, we will put a stop to these senseless deaths.
By presenting all the many sides of Chicago, The Chi promises to provide a voice to people who haven't always had one in the media. In the process, it may be a show that feels true even if every last detail isn't. In this case, creating a feeling of authenticity was the goal.
Check out Romper's new video series, Romper's Doula Diaries:
Watch full episodes of Romper's Doula Diaries on Facebook Watch.