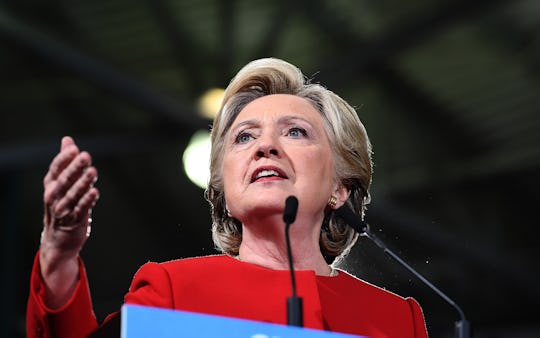 JEWEL SAMAD/AFP/Getty Images
Is The Clinton Email Scandal Affecting Polls? The Race is Tightening
The country is limping toward the finish line of one of the most divisive and ugly presidential elections in modern history. Both former Secretary of State Hillary Clinton and businessman Donald Trump are wildly unpopular, deeply distrusted, and have been dogged by serious scandal. Clinton's Achilles heel throughout the campaign has been her unauthorized private email server she used while she was Secretary of State. Is the Clinton email scandal affecting polls? It looks like the race is tightening in the home stretch.
FBI Director James Comey doused Clinton's email problems with gasoline and lit a match last week when he released a vague letter to Congress explaining new evidence had been found in the investigation into Clinton's server, but little else.
"We don't ordinarily tell Congress about ongoing investigations, but here I feel an obligation to do so given that I testified repeatedly in recent months that our investigation was completed," Comey wrote to Congress, according to CNN. "I also think it would be misleading to the American people were we not to supplement the record."
What wasn't contained in the letter were any details about what the evidence was, or what the potential fallout could be.
Following Comey's letter, reporters were able to find out the new evidence Comey was referring to was a laptop shared by Clinton aide Huma Abedin and her now estranged husband, Anthony Weiner, who is also under FBI investigation for possible sexual contact with a minor, according to NBC News. Romper could not reach Weiner for comment after repeated attempts.
Comey's letter was just enough to remind voters of Clinton's email troubles and give her opponent ammunition to use against her. The question was, would this sway any voters?
A new poll from ABC News shows Trump with a one-point lead nationally for the first time since May, when Trump first secured the nomination and Clinton was still in a heated campaign against Vermont Sen. Bernie Sanders, according to ABC News. ABC points out this 1-point result is within the margin of error for the poll, but the enthusiasm gap for each candidates' supporters is a factor here, according ABC. The poll found that Trump has pulled ahead of Clinton by 8 points when it comes to voters who are "very enthusiastic" about their choice.
A new Politico/Morning Consult poll, which was taken after Comey's letter to Congress, shows Clinton with a small, three-point lead nationally, 46 to 43 in a head-to-head race, according to Politico. In a similar poll conducted prior to the new revelations about Clinton's server, she was ahead of Trump by 5 points in a national race, Politico reported. Thirty-nine percent of voters said the new FBI email revelations has no impact on their vote, Politico reported.
So while Comey's "October surprise" might have felt like a big deal, voters don't appear to be abandoning Clinton just yet. But there are still a few more days to go, and if there's been any lesson to take away from this election, it's that anything can, and probably will, happen.