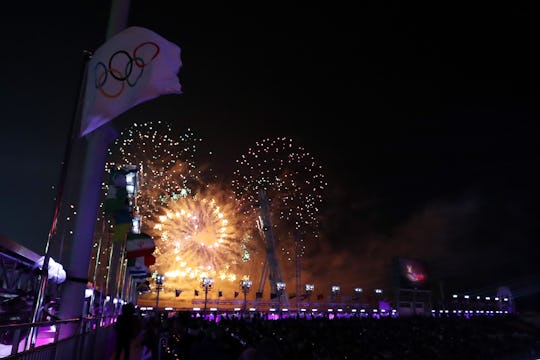 Al Bello/Getty Images Sport/Getty Images
Is The Closing Ceremony Sold Out? Tickets Are Still Available, But They're Not Cheap
Maybe you're a procrastinator, or maybe you just didn't realize how much you cared about it until now, but if you're just now wondering if the 2018 Olympics closing ceremony is sold out, you're in luck. There are still tickets available for the final event of the PyeongChang Winter Games, although it should come as no surprise that they're quite a bit pricier than dinner and a movie. The performances will take place at the Pyeongchang Olympic Stadium on Feb. 25 at 8:00 p.m. local time, and if you plan on staying stateside, you can stream them live on the NBC Olympics website or the NBC Sports app at 6:00 a.m. Eastern Time, according to Business Insider, or if you're not much of an early bird, you can wait for the prime time broadcast on NBC at 8:00 p.m. EST.
If you're already in South Korea for the games and just want to pick up tickets for the last show, they're still available at Seoul City Hall, Gangneung City Hall, the Gangwon Province Provincial Office, Gimpo/Incheon Airport, and many of the KTX high speed rail stations, as well as box offices outside the Olympic venues, according to the PyeongChang 2018 website. Spots are still open at the two highest price points, ₩600,000 and ₩950,000, which works out to about $558 and $883.50, respectively. Americans looking to score tickets online will have to do so through Team USA's authorized reseller, CoSport, which is charging $1,025.69 a pop.
The ceremony will be headlined by K-pop star CL and Korean boy band EXO, according to the Korea Times, and director Song Seung-hwan has teased "fusion" as the theme. Viewers may recognize EXO's lead singer, Baek Hyun, as the performer who sang Korea's national anthem at the opening ceremony. CL is a member of the now-defunct K-pop girl band, 2NE1, who has been working on a solo English-language career for the last few years. Her most recent single was "No Better Feelin'" from the soundtrack for My Little Pony: The Movie. There will also be "one or two mystery guests," Song told the Korea Times, and all staff members in the know have signed a "memorandum of secrecy" regarding the performers' identities. Is it PSY? It's gotta be PSY, right?
Beijing will be the next host city for the Winter Games, and as such, the city will have its own performance at the closing ceremony, entitled "Beijing 8 Minutes." The show will be directed by Chinese filmmaker Zhang Yimou, who ran the opening and closing ceremonies at the 2008 Beijing Summer Olympics. This portion of the performance will combine "the latest technologies, traditional elements and scenes of winter sports," according to the Korea Times. One thing we know for sure is what won't be included; Song promised that the main ceremony would be "free of political concerns, such as a surprise appearance by North Korean performers or those involved in the regime."
Well, make that mostly free. Though North Korea isn't making an appearance onstage, there will be some political wheeling and dealing behind the scenes. Korean newspaper Chosun Ilbo has reported that the South Korean government plans to woo closing ceremony attendee Ivanka Trump as a way to convince her father to come for a visit. One lawmaker told the paper, "You can say that Ivanka Trump holds the key to convincing the U.S. government." The paper handily explained why she's so important: "Trump runs the White House like a private fiefdom," it said, and as such, has given both Ivanka and her husband "ill-defined foreign-policy roles."
The paper further asserted that Ivanka is considered, "[for] all intents and purposes the first lady of the U.S. rather than Trump's reluctant wife Melania," and other nations have repeatedly recognized her as a de facto head of state. Korean First Lady Kim Jung-sook may give her U.S. counterpart a tour while she's in town. The Korean goverment is also planning to "lavish" Ivanka's young children with gifts, according to Chosun Ilbo, which is probably a violation of some law, but honestly, I don't see it ever getting enforced, so congratulations to them! You might want to attend the closing ceremony just to see Ivanka and her armloads of Korean teddy bears.
Check out Romper's new video series, Romper's Doula Diaries:
Watch full episodes of Romper's Doula Diaries on Facebook Watch.