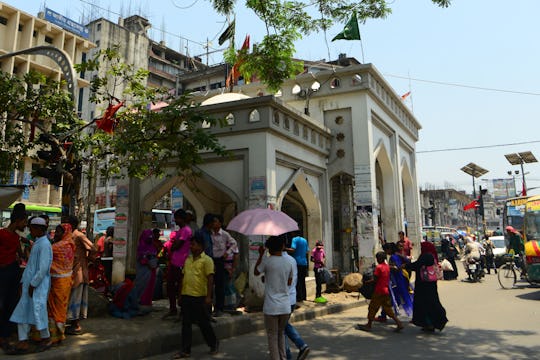 STR/AFP/Getty Images
Is The Dhaka Hostage Situation Terrorism? Dozens Were Held By Gunmen In A Cafe
On Friday, in the diplomatic area of Bangladesh's capital city, armed attackers held up to 20 hostages in Holey Artisan Bakery, a cafe popular among expats, according to CNN. Initial reports pointed to a situation with eight to nine gunmen and the presence of explosives. Demands have yet to be made by the gunmen. Is the Dhaka hostage situation terrorism? Police and embassy officials have yet to clarify the situation, and details are still emerging.
Update: According to ABC, ISIS-affiliated media outlet Amaq said ISIS "commandos" were behind the attack. Amaq claimed that over 20 people "of different nationalities" had been killed, but the BBC reported that this has yet to be confirmed.
At least two police officers were killed when shots were fired between the attackers and the officers on the scene, and at least five others were injured, according to the BBC. Attackers also reportedly threw explosives at the officers, who sealed off the area and began negotiations for the release of the hostages. "We want to resolve this peacefully. We are trying to talk to the attackers," said Benazir Ahmed, the chief of Bangladesh's Rapid Action Battalion, according to the BBC. "Our first priority is to save the lives of the people trapped inside."
According to The Guardian, a café worker who escaped the siege told local station Jamuna Television that the attackers were chanting "Allahu Akbar," or "God is greatest," but, again, this hasn't been officially confirmed. Earlier on Friday, a Hindu temple volunteer was killed by three men who came along on a motorcycle as he walked to his temple that morning. While no groups took responsibility for the attack, police said it seemed like a trademark murder of a religious minority by Islamic militants, according to The Guardian.
Bangladesh has been facing a wave of crime lately, and murders of religious minorities, the Bangladeshi LGBTQ community, and secular academics and bloggers have run rampant. In an attempt to control the violence, police recently arrested over 14,000 people, but the attacks, usually delivered with knives and machetes, continued. According to The Los Angeles Times, over 49 people have been killed in the past 17 months.
While ISIS and Al Qaeda have frequently claimed responsibility for the Bangladeshi attacks, officials in the country reportedly believe domestic militants, homegrown extremists, and political opponents are to blame for the violence.
The situation in the Holey Artisan Bakery is ongoing, and — now several hours into the standoff — details have yet to emerge regarding hostages' demands or the situation developing inside the café.