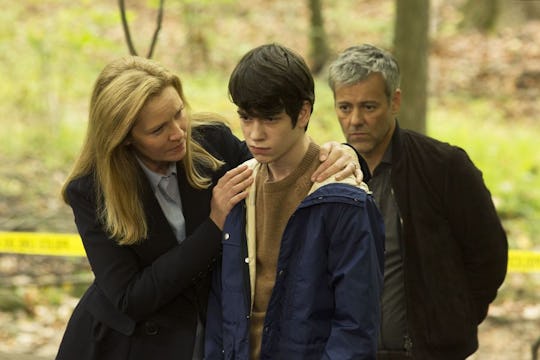 KC Bailey/ABC
Is 'The Family' Based On A True Story? The ABC Drama Has A Gripping Premise
Scandal fans may notice that there was no new episode Thursday night. Rather, ABC aired a special premiere of their new show The Family. The show — created and produced by former Shondaland writer Jenna Bans — is about the Warren family, who experience a bizarre return of their missing son, 10 years after his disappearance. The show is clearly mysterious, which may lead fans to wonder if The Family is based on a true story?
A decade ago the Warren Family's eight-year-old son, Adam, went missing. At the time, his mother Claire was running for City Council. When Adam went missing, a convicted sex offender and neighbor to the Warrens, Hank, confessed to the murder and was sentenced for his presumed crime. Ten years later, Claire is now running for Governor of Maine, and a teenage boy shows up at the local police station claiming to be Adam Warren.
So is this intense premise based on a true story? Believe it or not, it is not so far-fetched to think that a teenager would to be someone he is not; imposters have tricked families and the public throughout history. One instance is particularly similar to the plot of The Family: the case of Nicholas Barclay — or, actually, his imposter — as portrayed in the documentary The Imposter.
Hold on, because this is a doozy. Nicholas Barclay was 13 at the time of his disappearance in his hometown of San Antonio, Texas. According to reports, he was playing basketball with his friends on June 13, 1994, but never made it home that day and had not been seen since. Three years later, his imposter — later revealed to be serial imposter Frédéric Bourdin — emerged and convinced Barclay's family that not only was he their son, but he had escaped a prostitution ring.
Supposedly, Bourdin did not look like Barclay, and had a noticeable accent, but he managed to live with the Barclay family for five months. He was found out when a local private investigator grew suspicious that Bourdin was not actually Barclay — — spoiler alert, he was right. Bourdin was soon taken to court and subsequently imprisoned for six years.
So, was The Family based on Barclay's story? Chances are it isn't based directly on this story. Jenna Bans, the Shondaland veteran, certainly knows how to bring the drama having learned from the best. Bans and The Family crew may have been inspired by the many known instances of imposters, but it is unlikely that the show is about one specific case.
The draw of The Family is not that it is based on a true story, but of the mystery the show promises. Is "Adam" really Adam, or is he following in Bourdin's footsteps and causing the Warren family the same heartache Bourdin caused Barclay's family? Only time will tell.