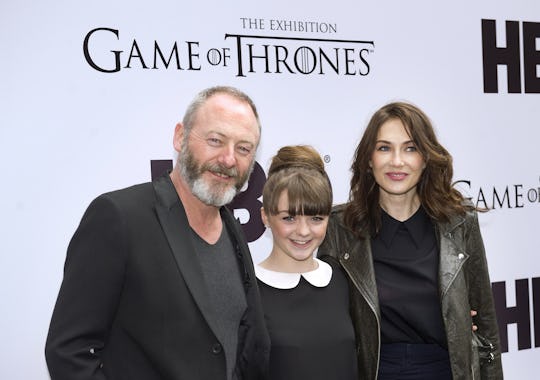 ROBERT VOS/AFP/Getty Images
If You're A GOT Fan, The Emmys Might Be A Disappointment This Year
If you're a fan of red carpet fashion, as well as dragon epics, you might be looking for Daenerys, Jon, and Sansa during television's most glamorous night. But is the Game of Thrones cast at the 2017 Emmys? The actors have yet to be spotted at the pre-show, but they're not really expected to attend. Why? Well, because, unfortunately, they didn't get any nominations. But don't cry for them, Westeros; the truth is they weren't eligible (I'm so, so sorry). The Emmys run on a rolling May 30 to June 1 year, according to Newsweek, because back in the day, TV seasons used to follow a pretty predictable pattern. Nowadays, though, cable and Netflix have thrown all the rules out the window, so Game of Thrones Season 7 didn't premiere until mid-July 2017.
But honestly, if any show can afford to sit back and take a break for a year, it's Game of Thrones. The show scored an impressive 12 awards at the 2016 Emmys, bringing its total wins to a whopping 38, which just so happened to be a new record for a scripted television series. The series regularly scores wins in the makeup and visual effects categories, as one might imagine, but it's also been nominated for Outstanding Drama Series every single season (until now), and it won the last two years in a row. Let someone else have a chance, right?
However, the ineligibility might come as something of a disappointment to the case themselves, because that means they don't have a chance at nabbing their own awards for acting. Only one has ever had the honor; Peter Dinklage, who received the award for Outstanding Supporting Actor in a Drama Series twice, in 2011 and again in 2015. He was also nominated every other year that the show was eligible. Not too shabby! Emilia Clarke, Lena Headey, Kit Harington, and Maisie Williams have also been nominated in the past. But at least this year they don't have to worry about squeezing into couture and going hungry for hours before attending the after parties!
The ineligibility of its biggest hit isn't hurting the network, though. As a matter of fact, HBO still racked up a total of 111 nominations, according to The Atlantic. Without Game of Thrones stealing the spotlight, perhaps shows like Westworld will get more attention. In addition to the nomination for Outstanding Drama Series, series actors Evan Rachel Wood, Anthony Hopkins, Jeffrey Wright, and Thandie Newton are all up for awards, as well, according to Variety.
So where is all that Westerosi royalty hanging out while the rest of Hollywood is busy collecting gold statuettes? Probably getting some much-deserved rest before they begin shooting their final season. Production is rumored to be starting in October, according to Vox. Giving credence to the rumors, the Independent has reported that the series is looking to cast two kids, each about 8-years-old. "Northern Girl" has been described as "a strong-minded young girl with a fighting spirit," while "Boy" is a poor but scrappy character who's expected to "completely own the scenes that he appears in." Anyone else smelling some flashbacks in the works?
And Season 8 will take even more work than the others, because according to Pennsylvania newspaper The Morning Call, showrunners plan to shoot multiple endings to combat leaks, à la "Who Shot J.R.?" (or "Who Shot Mr. Burns?," if you're not of a particular age). Earlier this year, hackers attempted to blackmail HBO by threatening to release episodes Game of Thrones early, so creating decoys would be a good way to throw them off the trail. And finally, if you're still disappointed in the Emmy absence this time around, don't forget that Season 7 will be eligible for next years Emmys!
Watch Romper's new video series, Romper's Doula Diaries:
Check out the entire Romper's Doula Diaries series and other videos on Facebook and the Bustle app across Apple TV, Roku, and Amazon Fire TV.