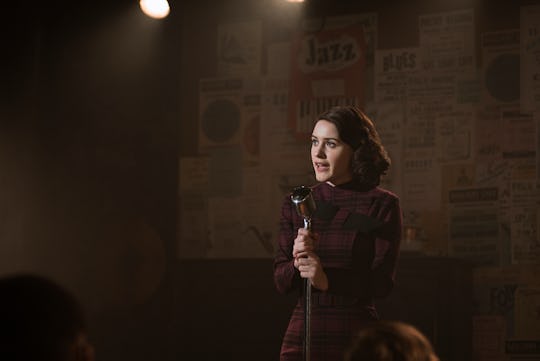 Amazon
The Gaslight Cafe On 'The Marvelous Mrs. Maisel' Has An Impressive History
On Amazon Prime's The Marvelous Mrs. Maisel, the titular character discovers her flair for comedy one drunken night in Greenwich Village at the Gaslight Cafe. She subsequently ends up spending a lot of time there, building her act and honing her craft. There were enough notable details to make the place feel real, but is the Gaslight Cafe on The Marvelous Mrs. Maisel a real place? It definitely was, and it was a pretty famous spot at that.
The legendary Greenwich Village cafe was still fairly new in the time of Midge Maisel, but it would quickly cement its reputation as a place for talented people to launch their careers. More than a few unknowns got on stage at the Gaslight and went on to become major stars. The cafe had a fascinating history from the start, though it was visually unassuming: located in the basement of a historic MacDougal Street building, it began life as a speakeasy in the 1920s and then became an antique store. A few more permutations followed before it was purchased by John Mitchell and became the Gaslight Cafe.
Poetry defined the Gaslight in its earliest days (this can be glimpsed every so often in Mrs. Maisel, too) and many Beat poets tried out their material there. According to Bedford + Bowery, Allen Ginsberg, Jack Kerouac, Gregory Corso, and Diane di Prima (to name a few) all gave readings at the Gaslight.
As the years went by, more and more musicians began to get their footing at the Gaslight. Folk singers in particular started to perform there, though they weren't the most popular acts at first. Dave van Ronk, whom many might remember as the inspiration behind the Coen Brothers' film Inside Llewyn Davis, became a regular fixture there. It was the go-to spot for the beatniks and artists that frequented the Village, somewhere they could hang out all night and listen to all kinds of poetry, music, and comedy.
The Gaslight was also where a 20-year-old Bob Dylan performed in the beginning of his career. He would continue to play there over the years, premiering new songs and making a name for himself. He wrote about the cafe in his memoir Chronicles, saying, "I kept my eyes on the Gaslight. How could I not? Compared to it, the rest of the places on the street were nameless and miserable, low-level basket houses or small coffee houses where the performer passed the hat." The Gaslight, by comparison, conveyed a certain amount of status.
Thanks to its popularity among performers, the Gaslight also found its way into pop culture. In addition to its reliable presence in The Marvelous Mrs. Maisel, it has shown up in countless movies and shows. You might have caught the cafe in Inside Llewyn Davis, which began and ended with Oscar Isaac singing on the Gaslight stage; the film also featured an early performance of Bob Dylan's. Even Don Draper visited the Gaslight on Mad Men, where he snidely looked down on his girlfriend Midge's beatnik friends and highlighted how out of touch he was with the counterculture.
The Gaslight also regularly got in trouble with law enforcement — something else viewers could see firsthand on Mrs. Maisel. They would often get caught on technicalities and minor infractions, and well-known patrons like Ginsberg made a concerted effort to keep its doors open. It closed and reopened a few times as it straightened things out, but eventually the Gaslight closed for good in 1971 after 13 years. As important as it had been for over a decade, it could no longer maintain its place in a changing city.
But if you ever find yourself on MacDougal Street, you can wander by the place where the Gaslight used to be. It won't look how it used to, but try to picture Midge Maisel twirling down the street after a standup set and see if you can conjure a little bit of its history.
Check out Romper's new video series, Romper's Doula Diaries:
Watch full episodes of Romper's Doula Diaries on Facebook Watch.