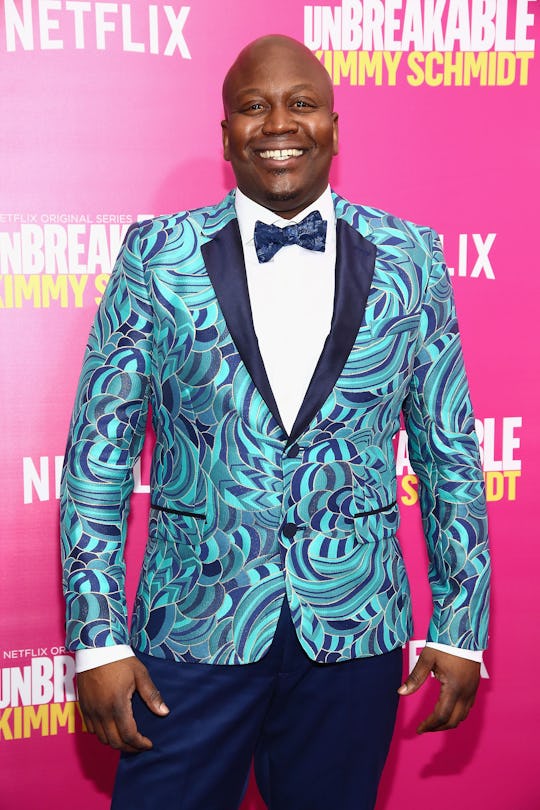 Astrid Stawiarz/Getty Images Entertainment/Getty Images
Is The Geisha Song Titus Sings On 'Unbreakable Kimmy Schmidt' Real? It's A Lullaby
Unbreakable Kimmy Schmidt has mined more than its fair share of laughs from the theatrical endeavors of Titus Andromedon (Tituss Burgess). There were his multiple attempts to audition for The Lion King (as well as his amazing Lion King knockoff play, complete with his orange tabby co-star), his werewolf dinner theater, and of course the eternal classic "Peeno Noir." Season 2 doesn't shirk when it comes to Titus's musical numbers, and one episode revolves around his one man show. The show explores one of Titus' many (all vividly remembered) past lives, that of the geisha Murasaki. A great deal of music is invented for the series, but is the geisha song Titus sings on Unbreakable Kimmy Schmidt real?
The episode takes a more than sarcastic look at the negative response to Titus playing a Japanese woman (which is pretty meta too, considering criticisms of Jane Krakowski playing a Native American woman on the first season of the series), but when Titus performs the song in character as Murasaki, his critics are totally won over. After Titus's performance, one of his former critics exclaims that he hadn't heard the song since he was a little boy, which makes sense because it is an actual lullaby, often referred to as the Takeda lullaby because of the region it hails from.
It comes from the burakumin areas in part of Kyoto; burakumin refers to a community in Japan that faced discrimination because their professions, which dealt with death (executioners, undertakers, butchers) and were thought to be "impure." Despite its sad origins, the lullaby went on to become a popular recording in Japan in the late '60s and early '70s thanks to the folk band Akai Tori.
The lullaby itself tells the tragic story of a girl who is forced to work for a rich family far from her home, which she longs for every day. It ties into Titus' past life on Kimmy Schmidt because Murasaki ends up having to give up her dreams and return to her home, too.
It's a surprisingly serious song for such a fun and frivolous show, but it proves that at least they did their research.