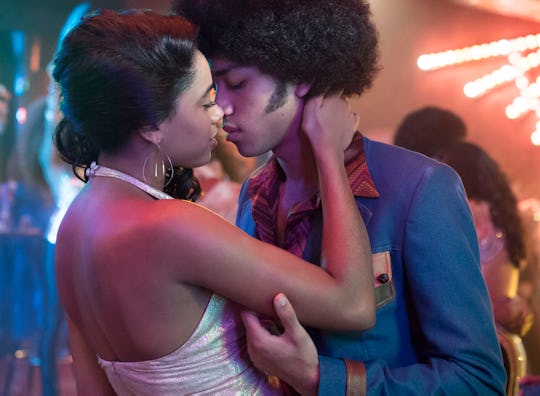 Myles Aronowitz/Netflix
Is 'The Get Down' Based On A True Story? The Netflix Series Tries To Be Authentic
More and more cinematic talents seem to be making the journey from the big screen to the small as the prestige of television becomes increasingly appealing. Now filmmaker Baz Luhrman is among their number. The director, best known for the flashy aesthetic and fantastic soundtracks of his films (Romeo + Juliet, Moulin Rouge!, and The Great Gatsby), is making the jump with a new series for Netflix called The Get Down. Entertainment Weekly described the show as "a mythic saga of how New York at the brink of bankruptcy gave birth to hip-hop, punk and disco – told through the lives and music of the South Bronx kids who changed the city, and the world forever." But is The Get Down based on a true story?
In a way, yes. While it takes its inspiration from real events and focuses on a real time in history, some of the characters and story are fictional. Rolling Stone called it "lightly fictionalized," as there are real people amongst the cast of characters, such as Grandmaster Flash, who served as a producer in real life and will be played by Mamoudou Athie on the show. So even though not every part of it is one hundred percent true, there is still a thread of reality in the project.
Deadline called The Get Down a "a partial and heavily fictional re-imagining of sorts of the life of Nas," but Luhrman denied a direct connection, though Nas was very involved in the show's production. Nas is a producer and writer for the show who provided the rap narration (which will be performed by Daveed Diggs, cue swooning). Luhrman described Nas as a "huge creative force in the production," and it seems like there are a lot of greats behind the scenes to add to the show's authenticity. According to Nas, "The series is very true to the early hip-hop scene. The people that were there are all in this story, as well as people you never meet until now."
Grandmaster Flash concurred, saying, "There's no such thing as the historically perfect program, but I have to say that Baz and this team have gotten it extremely, extremely, extremely, extremely close." That seems to be the plan during the show's production, which Luhrman wanted to be a true collaboration so that it could really access the real experiences of people from this particular time and place. "A myth rooted in a history" was one way Luhrman explained his vision for the semi-fictionalized series.
The talent in front of and behind the camera bodes well for The Get Down when it comes to trying to stay true to a real time in history.