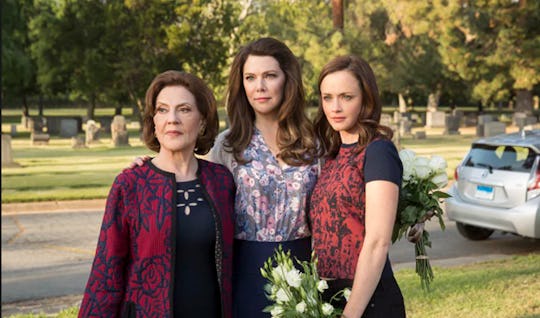 Is The 'Gilmore Girls' Revival Eligible For A Golden Globe? Fans Will Fight For It
Everyone and their mom watched Rory and Lorelei stuff their faces with pop-tarts, popcorn, and pizza this Thanksgiving with the Gilmore Girls revival. Despite it's popularity, it always seemed amiss by awards shows, though it did manage to snag an Emmy for Outstanding Makeup and a Television Critics Association award for "New Program of the Year." So, with the Golden Globes coming up, one has to ask: is the Gilmore Girls revival eligible for a Golden Globe? The answer is a little confusing, but there is hope!
According to Decider, "it's chances seem fairly decent for nomination." The chances are higher than ever now that the revival is being streamed on Netflix's award winning network. The show might not have had its shot before, but now could be the time. Netflix made the show stand out after breathing new air into it when allowing people to re-watch their favorite episodes. Marathon-ing served as a necessary preparation for the new season-themed segments of Gilmore Girls. By pushing Gilmore Girls back into the lives of real-life women, there's a legitimate chance that the show could be nominated for the Golden Globes in the "Limited Series" category. Not bad, huh?
The logistics behind the nomination remain unknown. There is an end-of-October deadline for submission and eligibility this Globes season, which any true fan would know the show wasn't released in time for. But, that doesn't mean it can't be nominated, since the Golden Globes technically cover everything in the 2016 calendar year.
Lauren Graham was nominated for a Golden Globe in 2001 for "Best Actress in a Leading Role," but she didn't take home the trophy, unfortunately. The only awards show to show some consistent love to the series was the Teen Choice Awards, who paid both Graham and Alexis Bledel their rightful dues.
I really hope that happens, because this fast-talking mother/daughter pair has worked very hard over the years. And the fact that they were all able to just jump back into their roles after a decade is telling of their abilities, and the show's long-standing endurance. If not, a lot of Gilmore Girls fans will be frustrated.
But if it does happen, it will be as magical as when Lorelai matched a red dress suit outfit with her mother.
Fingers crossed, Gilmore fans!