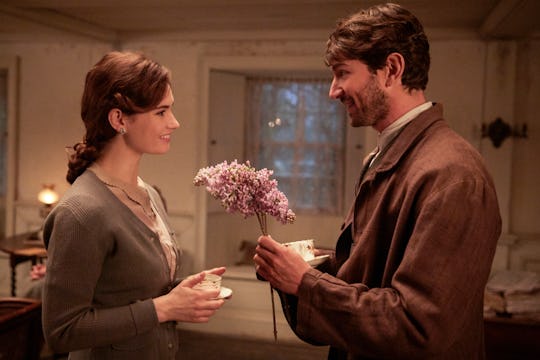 Kerry Brown/Netflix
Here's What 'The Guernsey Literary & Potato Peel Pie Society' Is Based On
The Guernsey Literary and Potato Peel Pie Society hit theaters in The UK last April, but Netflix has acquired the film for its U.S. release. Given its well-known roster of stars and polished, British historical romance sheen, it's poised to be popular stateside. But viewers may be wondering: is The Guernsey Literary and Potato Peel Pie Society based on a book? In fact, it is!
The novel was a piece of historical fiction told as an epistolary romance, written by Mary Ann Shaffer and Annie Barrows in 2008. Shaffer first visited Guernsey in 1980 and felt so inspired by the relatively unknown history of the little island in the English Channel that she wrote a story about its people, set after Guernsey's period of Nazi occupation during World War II.
Although it's commonly believed that the British never gave up any of their land, despite brutal attacks from German armies, they actually didn't defend the British Isles. They weren't thought of as strategically important to Britain's stronghold on the mainland, so Nazis were able to move in swiftly and occupy the island of Guernsey, cutting it off from outside communication and confiscating all its radios. About half the island's residents were able to escape before the occupation, but the rest were left to starve under an inhumane restriction of rations and siphoning off of resources to Nazi armies.
The book follows a fictional writer named Juliet Ashton as she travels across post-war England on a book tour. Along the way, she receives a letter from a Guernsey man named Dawsey Adams who tells her about a secret book club held on the island. It's called The Guernsey Literary and Potato Peel Pie Society. During the occupation, the secret society was used as a cover for breaking the island's strictly imposed curfew. As for the potato peel pie, it's a reference to the inventive recipes islanders were forced to cobble together to avoid starvation while Nazi forces stole their agricultural resources. Potato peel pie was a common dish.
The well-received novel was Shaffer's first and only published work. The author unfortunately died before she could finish the book, so it was completed by her niece and children's author, Annie Barrows.
The film stars Lily James as Juliet, fresh off her well-reviewed turn in Mamma Mia: Here We Go Again. Dawsey Adams is played by Game of Thrones' Michiel Huisman and he puts Juliet in a very Titanic-esque love triangle between himself, the scraggly islander, and Markham Reynolds, her wealthy American boyfriend.
The Crown's Matthew Goode plays Sidney, Juliet's publisher, and Jessica Brown Findlay — perhaps better known to us all as Downton Abbey's dearly departed Lady Sybill — plays Elizabeth, The Guernsey Literary and Potato Peel Pie Society's founder. Directing the film is Mark Newell, probably best known to fans of British cinema as the eye behind Harry Potter and the Goblet of Fire. Clearly, the film has a ton of big name talent behind it, and it stands to perform really well. The Guernsey Literary and Potato Peel Pie Society drops on Netflix August 10.