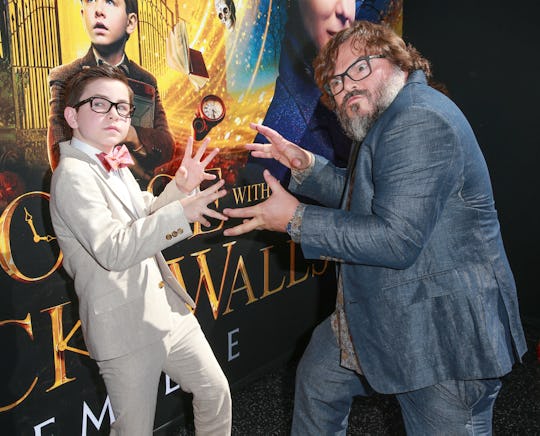 Rich Fury/Getty Images Entertainment/Getty Images
'The House With A Clock In Its Walls' Is Sure To Be A Family Favorite — Here's Why
As we inch closer to the first days of fall, everyone is thinking about the candy, costumes, and beloved traditions of the season. Chief among them? Movies. Though autumn is undoubtedly the best time to re-watch some of your old favorites, it's also fun to see newer spooky films to add to your repertoire. This year, many parents will probably be wondering: Is The House With A Clock In Its Walls for kids or adults? The forthcoming magical mystery film is sure to become a family favorite.
Rotten Tomatoes notes that the film is rated PG for "thematic elements including sorcery, some action, scary images, rude humor and language." The British Board of Film Classification says that PG stands for Parental Guidance, meaning that while the film is suitable for the general public, some scenes may be unsuitable for young children. It is recommended that parents supervise kids 8 years and younger.
According to IMDb, the movie, which comes out on Sept. 21, is based on a young boy named Lewis Barnavelt, who goes to live with his uncle after his parents pass away. The boy is actually a wizard. (Yes, it does sound familiar.) Once he discovers his powers, Lewis enters the magical world of sorcery, but not all is benevolent there. The family must face an evil wizard who used to occupy their home, and whom not only has the power to invoke the Apocalypse, but also a dream of ending the world.
The film stars Owen Vaccaro as Lewis, Jack Black as his Uncle Jonathan, and Cate Blanchett as his Aunt Selena.
CinemaBlend reports that the film has thus far been met with fairly positive reviews. "In a cinematic landscape where filmmakers want to take the horror levels to new extremes, it's nice to see a flick like The House With A Clock In Its Walls, a movie geared toward a younger crowd that also looks like it has some legit shocks," the website explains.
Some parents may have been concerned with the fact that the film was directed by Eli Roth, who is known for his more mature horror movies. However, Roth explained to Vulture that this is something he has wanted to do for a while. "I've always wanted to do my version of a kids' movie. And by that I mean a film like Time Bandits or Beetlejuice or Gremlins or Goonies," he said, alluding to other classic "spooky" films.
Roth also told Vulture that the film will offer something for both kids and parents, as many subtle nods to other films and pop culture staples will be incorporated. "I don't want to give it away. But you'll see it," he told the news outlet. "For sure, people will go, 'Oh, my gosh, it's a reference to that. I can't believe he did that!'"
Be that as it is, it seems clear that the film is both geared toward piquing children's interest, with enough plot complexity to also entertain the adults. It seems easily positioned to become one of the next classic Halloween films. For those who don't want to wait for the movie to be available on at-home streaming services, The House With A Clock In Its Walls premieres in theaters on Sept. 21.