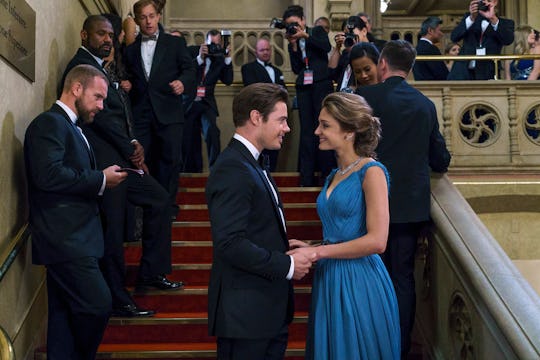 Daniel Power/E! Entertainment
'The Arrangement' Explores A Self-Help Facility
The Arrangement, E!'s newest scripted series, may be all about the romance between struggling actress Megan Morrison (Christine Evangelista) and movie star Kyle West (Josh Henderson), but what has many people curious is The Institute of the Higher Mind, which evidently Kyle is a member of. The Institute is run by his close friend Terrence Anderson (Michael Vartan) and it seems there's some curiosity surrounding the Institute. Many fans can't help but wonder if The Institute of the Higher Mind is real on The Arrangement. (Romper has reached out to representatives for the Church of Scientology, but have yet to hear back.)
Ever since the concept of the show was released, people have been making comparisons to Scientology, a religious system based on the seeking of self-knowledge through graded courses of study and training. The Institute of the Higher Mind shares a very similiar concept, and considering that Kyle is a movie star subscriber to the Institute, his character feels like an obvious parallel Tom Cruise, a known member of Scientology. However, show creator Jonathan Abrahams denied any comparisons at the Television Critics Association winter press tour, but also stated that even if it was about Scientology he wouldn't be able to say so.
"[The Institute of the Higher Mind is] not a religion. It really is not a religion," he told reporters at the press event. "I don't mean that coyly. This is not a show about faith. that's not the underlying theme of, 'Do you believe or do you not believe?'"
Rather than a religion, Abrahams said The Institute is actual based on different self-help programs in Los Angeles, such as Lifespring and The Forum. "There were a lot of inspirations for me, I've had experiences second- and third-hand in self-help organizations," Abrahams explained. "There are many of them. These self-help organizations are about aspiring to a higher way of living — having more success in your profession and having more success in your relationships."
So even though The Institute of the Higher Mind isn't specifically based on Scientology, it is based on real places. There's even a place called Higher Balance Institute that seems very similar as far as the name goes, though thankfully without all the mystery and somewhat sketchy things associated with The Institute on the show.
It appears then that The Institute is kind of real, as it's based on real institutions. However, if you're hoping to find a lot of hot celebrities at an institute in real life, you may be out of luck. You can learn more about The Institute of the Higher Mind when The Arrangement premieres on Sunday, March 5 at 10 p.m. ET on E!.