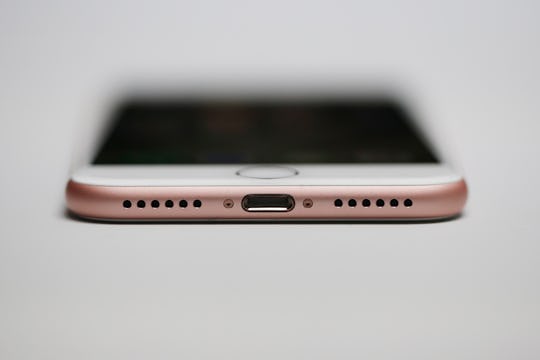 Stephen Lam/Getty Images News/Getty Images
Is The iPhone 7 Sold Out? Pre-orders Start Soon
Whether or not you think wireless headphones are absolutely unnecessary, you have to admit — getting your hands on an iPhone 7 definitely means that you're leveling up in some way. But is the iPhone 7 sold out already? Online pre-orders go live Sept. 9 and the the phone will hit stores Sept. 16 — but Apple isn't planning to disclose how many coveted devices it sells in its first weekend.
Apple spokeswoman Kristin Huguet is 100 percent confident that the iPhone 7 will sell out, a fact that Apple is sure of "before taking the first customer pre-order." Huguet told Reuters, "These initial sales will be governed by supply, not demand, and we have decided that it is no longer a representative metric for our investors and customers."
Boasting a sleeker look, water resistance, and an upgraded camera, Apple-philes are going to want to know how to get their hands on an iPhone 7 ASAP. When the iPhone 6 launched, it sold out in pre-sale, so now's the time to commit to your preferred device so you know just what to order.
You have a couple of options: The regular iPhone 7 goes for $649 and the iPhone 7 Plus is yours for $769. Both phones come in either matte or shiny black (iPhone 4 throwback, much?) as well as silver, gold, and rose gold. Like the previous generation, the iPhone 7 Plus is 6.23 inches with a 5.5 (diagonal) inch display in comparison to the regular iPhone's 5.44 and 4.7 inches. Oh — and now you can be convinced to buy a device with even more memory was possible last generation: A whopping 256GB. Somewhere, likely in a forgotten drawer, my erstwhile 8G iPhone 3 is sobbing.
You might actually want to spring for more gigs, as higher iPhone picture quality will take up more space on your phone. Also of note: the glossy, "jet black" iPhone 7 scratches more easily than other finishes, so if you get that one you'll want to get a case, which perhaps completely defeats the purpose of picking a phone for its sheen. But if you're super careful, by all means you may go ahead.
Whereas last time Apple offered solutions to smooth out your pre-sale experience, it's looking like you're on your own this year. Refinery 29 reports that "in 2015, the pre-sale started at 12:01 a.m. PST, 3:01 a.m. EDT," so set your alarms or keep re-bingeing Stranger Things or take whatever precautions you must take to keep yourself awake, aware, and ready to click "Add To Cart." May the odds be ever in your favor.