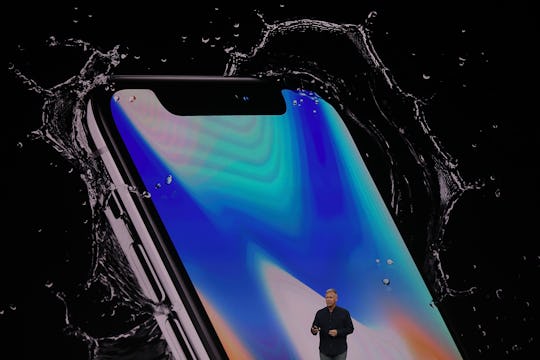 Justin Sullivan/Getty Images News/Getty Images
Here's What Parents Should Know About Kids Using The iPhone X
If you were on the internet at all on Tuesday, you probably heard that Apple had a product release event that afternoon that drew a lot of attention. Hashtags like #AppleEvent, #iPhone, #iPhone8, #iPhoneX, and the like trended on Twitter, and a bunch of different corners of the web reported on the latest announcements regarding products released by the tech giant. One of the most exciting new products announced by Apple is the iPhone X, a "high-end handset," as Wired called it, that, because of it's design, might give parents in the market for a new phone reason to pause. Since smartphones are increasingly popular and often used by the whole family, some are asking whether the iPhone X is appropriate for kids under 5. The answer might depend on your kid, and your phone security habits.
The new iPhone X is all screen on the front, except for a spot at the top for sensors and a camera, according to Wired. More importantly, the case for the iPhone X is made of glass and stainless steel — even the back is made of glass, according to The Economic Times. And that's why some parents might be reluctant to let their kids under 5 play with the new iPhone X.
In a lot of ways, the iPhone X sounds similar to other smartphones on the market. Indeed, I know from personal experience that the Samsung Galaxy S8 incorporates a lot of glass into the design, and frankly, I'm a little paranoid about dropping the device myself. And I'm not a 5-year-old, in an age bracket that generally aren't known for not dropping things.
So if you know your child, and know that a phone made mostly of glass isn't going to be safe in their hands, you'll need to consider either not getting the iPhone X or getting a pretty sturdy protective case for it. But if you get a case, you'll have to take it off in order to use another new iPhone feature — wireless charging.
The iPhone X now supports wireless charging, according to Business Insider. But it involves placing your iPhone on a charging pad, and a thick, protective case would get in the way of the device charging. If you can get over the annoyance of having to take off the case every time you go to charge the phone, though, and trust that your kid won't mess with it while it's charging, you might still want to consider the new mobile phone from Apple.
In news that parents might see as a positive, however, the iPhone X is reportedly resistant to both water and dust, according to Tech Crunch. That sort of protection is certainly not unwelcome to parents, whose kids could get their phones into all sorts of messy situations.
In a world where, by the age of 2, 90 percent of kids can use a tablet in some capacity, it's really not that unreasonable to question whether each new exciting tech device is suitable for kids. And the iPhone X is no different. People questioning whether kids under 5 should use the iPhone X are just being realistic — kids can, and do, get their hands on smartphones. And it's not totally out of left field to ask whether kids that young should be handling the iPhone X.
In addition, the iPhone X can unlock using facial recognition, The Guardian reported. The facial recognition feature, called Face ID, can identify the phone's owner from a 3D scan of their face to unlock the phone, authorize payments, and to put in saved passwords into log-in screens. Sounds neat, right?
The iPhone X page on Apple's website doesn't go into specifics about it, but it doesn't sound like your kid will be able to open the phone on their own using that technology, since a spokesperson for Apple said on Tuesday that there's a one in 1 million chance anyone except the owner would be able to unlock an iPhone X using Face ID. If that's the case, a parent who owns the phone and utilizes that technology will have to look at it and unlock it any time the screen turns off while a child is using it. That could get really tiresome, really fast.
So is the iPhone X appropriate for kids under 5? Maybe if your child is the sort who's extremely careful with breakable things, and possibly if you can opt out of the Face ID feature so they can get into it on their own. Really, it will be up to parents whether they should let their children handle an iPhone X or not.