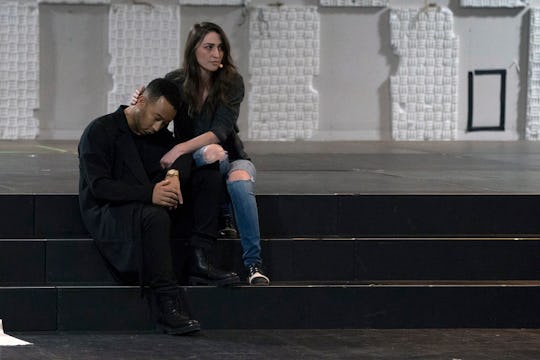 Virginia Sherwood/NBC
Is The 'Jesus Christ Superstar Live!' Cast Really Singing? Here's Everything You Need To Know
Get ready, Broadway fans, because NBC is staging another live musical event, this time a production of Jesus Christ Superstar Live! As with all of these types of productions, it seems almost unbelievable that it can really come together as well as it does, considering the fact that everything is live. So if you're wondering is the Jesus Christ Superstar Live cast really singing, then you're not alone. But the show is supposed to be a live performance with real singers. So rest assured that if any of the cast is lip-synching, some dedicated fan will figure it out and let everybody know. But honestly considering the musical talent within the cast, I'd be really surprised if any shenanigans of this type were going on.
The show stars John Legend as Jesus Christ (naturally). You may know Legend as the singer of "All of Me," the world's best wedding first-dance song, or as the man one Emmy away from an EGOT, or simply as Chrissy Teigen's husband. Basically it's harder to imagine someone who would make a better Jesus, or one more well-qualified to sing live and on stage. If Legend were to not sing live, I'm pretty sure the theater-loving viewers would riot. So it's best the show manage to avoid that.
Jesus Christ Superstar Live also stars Broadway star and singer-songwriter Sara Bareilles as Mary Magdalen, Hamilton star Brandon Victor Dixon as Judas Iscariot, and literal rock star Alice Cooper as King Herod. Basically what I'm trying to say here is that these people know a thing or two when it comes to singing and performing live. If you had thrown, I don't know, Ryan Reynolds in there and asked him to sing I'd be a bit dubious. But hand over the reins to a bunch of people who consider singing and live performance one of their primary occupations and I'm pretty sure they can handle the live singing.
Furthermore, the show is said to be even staged like a rock concert rather than as a play. Like all the televised live musicals that have come before it, Jesus Christ Superstar Live will be performed in front of a live audience. But there's a difference this time, because the audience will be almost a part of the story as they interact with the performance happening right in front of them. The show will be presented like a true rock opera, with a stage that looks like an amphitheater, complete with a "mosh pit" in the center that will play a key part in the narrative.
Stage director David Leveaux talked about this decision during a press event in New York, as reported by Variety. "When you are standing there, you are really in the thick of it. It's another [unpredictable] element which is why I use the word 'reckless' in a good sense," Leveaux explained. He also said that this blending of the audience and performance in a live setting will create "a beautiful, disciplined madness in the whole creation."
Obviously, some semblance of mob-mentality is necessary when telling the story of how Jesus died (it was a whole thing). But this sounds like a ton of fun and now I'm only upset that I won't be there to watch the performance live.
But at least everyone can be fairly sure that the singers will yes, actually be singing, as the rock opera takes place on air. I honestly can't wait to see what Legend looks like as Jesus, if only because I didn't think it was possible to love him even more than I already do.
Check out Romper's new video series, Romper's Doula Diaries:
Watch full episodes of Romper's Doula Diaries on Facebook Watch.