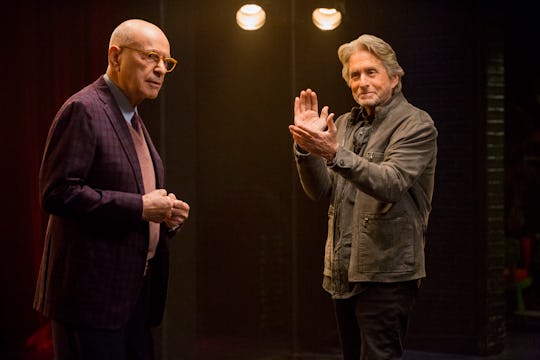 Courtesy of Netflix
Netflix's 'The Kominsky Method' Chronicles Two 70-Somethings Navigating Old Age
If you've ever wanted a Grace and Frankie but about men, well, it's finally here! One of Netflix's newest offerings this fall is The Kominsky Method, a tragicomedy series about two 70-something friends, played by Michael Douglas and Alan Arkin, navigating a new chapter of life — old age. But is The Kominsky Method based on a true story?
No, The Kominsky Method is not based on a true story. The eight-episode fictional series comes from the mind of Chuck Lorre, the man behind shows including Two and a Half Men, The Big Bang Theory, Young Sheldon, Mom, and Mike & Molly. But if those multi-camera sitcoms are not up your alley, don't let that scare you away from The Kominsky Method. Other than the fact that the lack of diversity in the cast (seriously, please work on this, Lorre), the new show is distinctively different from Lorre's other hits.
The Kominsky Method stars Douglas as Sandy Kominsky, an actor-turned-acting-teacher who is a bit of a womanizer and Arkin as Norman, Sandy's agent and friend, whose wife Eileen is sick. Eileen's dying wish to Sandy is that when she's gone, he look after her husband. The show then chronicles the two longtime friends' journeying through their loneliness, their careers, and their prostate problems together.
Unlike The Big Bang Theory and the rest of Lorre's shows, The Kominsky Method is a single-camera show, without a laugh track. The two leading men have plenty of deep, existential conversations — peppered with laugh lines.
"Listen to me, we're all scared. Because it's a scary f*cking world. But we get through it because we're not alone," Sandy passionately tells Norman in one scene. "Who do I have?" Norman asks. "Me, you dumb sh*t!" Sandy replies.
Even though Douglas is better known as a dramatic film actor, he found himself drawn to this TV project. "I read Chuck's script and I said, 'this is really interesting,' " Douglas told Variety in an interview about The Kominsky Method. "I hadn't seen writing like this in a feature film. I thought, this is just a great opportunity to work with the great comedy stuff and learn a little more about timing. I'm always a sucker susceptible to a good comedy. So I said, 'let's do it.'"
When USA Today asked why Douglas was cast, Lorre said it was because of the chemistry between Douglas and Arkin. "It was a combination of his ability to do comedy, as well as the gravitas of the role," Lorre told USA Today. "And there's a dynamic between him and Alan that's quite wonderful. One of those paradigm relationships between two men."
The show also stars Sarah Baker as Sandy's straightforward daughter Mindy, and Lisa Edelstein as Norman's daughter Phoebe, who he checks into rehab. Also among the cast are Nancy Travis, Emily Osment, Ann-Margret, and Danny DeVito as a urologist. The Kominsky Method drops on Netflix Nov. 16, so grab your bestie and get ready to devour Netflix's latest.