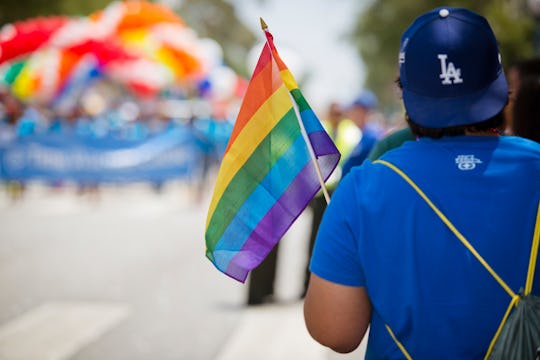 Chelsea Guglielmino/Getty Images Entertainment/Getty Images
Is The L.A. Pride Arrest Related To The Orlando Shootings? It's Too Early To Tell
Early Sunday morning, a gunman opened fire in a well-known gay club in Orlando, Florida, killing at least 50 people. Shortly following the attack that has shook the nation, there are reports coming from the Los Angeles Times saying that a man on his way to the L.A. Pride Festival was arrested with weapons found in his car. But is the L.A. Pride Festival arrest related to the Orlando shooting? It's too early to tell if the two incidents are related.
(Update: The FBI has updated the Orlando death toll to 49 victims. The shooter was also killed.)
According to the L.A. Times, there was a call to the Santa Monica police referring to a suspect in the vicinity of the L.A. Pride Festival. The site notes that police responded to the call and found a man who had several weapons and "a lot of ammunition as well as tannerite, an ingredient that could be used to create a pipe bomb." The man might not have been from California, the L.A. Times notes that he had Indiana license plates, but the suspect made comments that he was there specifically for the Pride event.
According to initial reports, sources did not know if there is any connection between the attack in Orlando Pulse nightclub early Sunday morning, or if it is an unrelated potential threat. The two events will most likely be treated as separate events, but are certainly treated equally important.
CNN went live from the L.A. Pride Festival, where a spokesperson noted that the festival is working with local law enforcement to assure a safe L.A. Pride. The Mayor of Los Angeles, Eric Garcetti, also spoke, saying that "We will not shrink away. We will not be stuck in our homes. We will not go back in our closets." Garcetti spoke on diversity and noted that all of our hearts today are with Orlando. "We are pulse. We are Orlando. We are Americans," Garcetti said.
Most importantly, Garcetti stressed that the arrest of the man in Santa Monica and the Orlando shooting are being treated as unrelated incidents. He noted that "We are safe, we are protected" and that law enforcement officials are there to protect those that are there to celebrate the LGBTQ community during the L.A. Pride Festival.