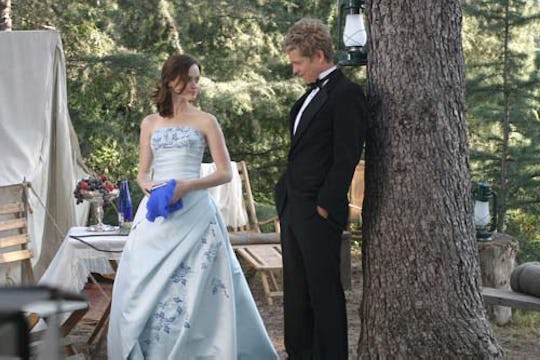 Warner Bros.
Is The Life & Death Brigade Real? The 'Gilmore Girls' Revival Brings Back The Group
(Warning: This post contains spoilers from Episode 3 of the Gilmore Girls revival.) Before Logan and Rory started to date, Rory was just a features writer for the Yale Daily News and Logan was a rich bad boy who was part of a secret society. However, when Rory discovered a girl in a gown wearing a gorilla mask, she began her research and discovered the Life & Death Brigade. With Logan's help, Rory was finally able to answer the question is the Life & Death Brigade real on Gilmore Girls. Thankfully the answer is not only a resounding yes, in Gilmore Girls land, but the Brigade still exists to this day.
The society seems to be loosely based off of the Skull & Bones society at Yale that was founded back in 1832. According to Crushable, the society was also sometimes referred to as The Brotherhood of Death, which sounds a bit terrifying but kind of similar to the Life and Death Brigade. Just like the Life and Death Brigade had it's own Latin motto, so did the Skulls & Bones society except theirs was a little different. The Skulls & Bones motto was "Bari Quippe Boni," which is Latin for "Nature makes only a few who are good," instead of the Life and Death Brigade's famous "In omnia paratus," which means "ready for anything."
When fans were first introduced to the Life and Death Brigade, it was a bit unclear what the purpose of the secret society actually was. Apparently, it was exactly what it sounded like. The group all got together in some secret location and performed some life or death stunt each time. None of us will forget when Rory participated in her first stunt alongside Logan. They held hands and jumped down a few stories holding on to nothing except an umbrella. It was the moment when, "I jump, you jump, Jack," took on a whole new meeting.
Well, in the revival, Rory was swept into another wild Life & Brigade night of fun. After Rory ended her ongoing affair with Logan and got into a fight with Lorelai, Logan could tell his former flame needed a pick me up. Calling in all the favors he brought in the big guns with Colin, Finn, and another Life and Brigade member who's not as memorable to be honest. They took over Stars Hollow with a dance number from Across the Universe and then went to an old school bar, which Colin naturally purchased. They then moved along to an empty bed and breakfast, which Logan and Co. apparently purchased ahead of time.
Although the Life & Brigade reunion was amazing to watch, it was heartbreaking to see Logan and Rory officially part ways. The two had been going back and forth a bit throughout the episodes of the revival and though I'm still firmly on Team Jess, I will say I almost switched teams. Logan sucked me in and it was hard to watch him go, but of course he went out with style with Colin and Finn by his side.