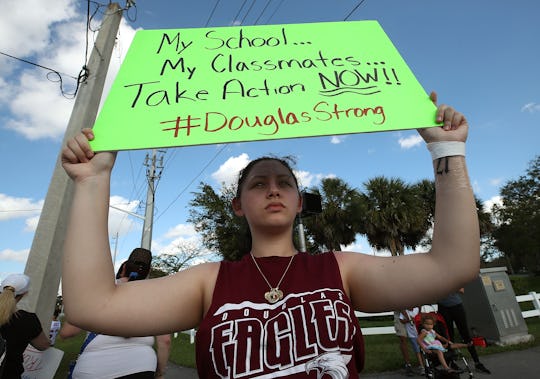 Mark Wilson/Getty Images News/Getty Images
Is The March For Our Lives In Washington DC? Here Are All The Deets
Following the recent shooting at Marjory Stoneman Douglas High School in Parkland, Florida, students are calling on Congress for change. One of the organized events to initiate this change is a march for gun violence prevention. The "March For Our Lives" in Washington D.C. will be held on March 24, and offers the public a chance to get involved in this powerful movement. While the main event will be held in D.C., there are opportunities to get involved from anywhere in the world if you aren't located nearby.
The March For Our Lives is organized by five of the student survivors — Jacqueline Coren, Emma Gonzalez, Cameron Kasky, David Hogg, and Alex Wind — along with the help of the nonprofit organization Everytown for Gun Safety, according to ABC News. These teens are looking to their government officials to enact stronger gun safety legislation and prevent future shootings.
Kansky, a junior at the high school, spoke with CNN about the meaning behind the march. "My message for the people in office is this: You're either with us or against us," he said. "We are losing our lives while the adults are playing around." Kids and family members alike are out to make a powerful statement as they walk the streets of D.C. Few official details of the march have been released at this time, but the March For Our Lives website and social media pages will likely share more information as the day grows closer.
Aside from the organized march in D.C., additional marches and protests will be held across the country. The official march website suggests that if you are unable to go to D.C. to join the movement, you should simply "march in your own community" on March 24 to join in on the momentum.
The march isn't the only organized event in response to this and other shootings in the U.S. In preparation for the march, students from Marjory Stoneman Douglas High School and other nearby schools participated in a gun safety rally in Fort Lauderdale on Saturday. Students toting signs that read "enough is enough" and "prayers and condolences are not enough," according to TIME.
There is also a National School Walkout scheduled for March 14 at 10:00 a.m. in each time zone across the country, according to Vox. The walkout was organized by the same people behind the Women's March, with the same goals in mind as the gun safety march. Students, teachers, and family members across the U.S. will step out of school for 17 minutes, in honor of the 17 victims in Parkland. The organizers issued a statement explaining that the issue is about human rights:
Students and staff have the right to teach and learn in an environment free from the worry of being gunned down in their classrooms or on their way home from school. Parents have the right to send their kids to school in the mornings and see them home alive at the end of the day
If you find yourself unable to participate in either the march or the walkout but still want to be involved, don't fret. Donating to the cause is an excellent way to show your support. One-hundred percent of funds raised will go to organized activities for the cause, according to the official march website. But don't take my word for it. George and Amal Clooney have committed to donating $500,000 to the March For Our Lives, according to Variety, and will also participate in the Washington march. George explained in a statement on Tuesday that they are donating in name of their own children:
Amal and I are so inspired by the courage and eloquence of these young men and women... Our family will be there on March 24 to stand side by side with this incredible generation of young people from all over the country, and in the name of our children Ella and Alexander, we're donating $500,000 to help pay for this groundbreaking event. Our children's lives depend on it.
Whether you march in D.C. or in your own town, or choose to donate your time instead of your money, getting involved in this movement is a way to tell your government officials that enough is enough.
Check out Romper's new video series, Bearing The Motherload, where disagreeing parents from different sides of an issue sit down with a mediator and talk about how to support (and not judge) each other's parenting perspectives. New episodes air Mondays on Facebook.