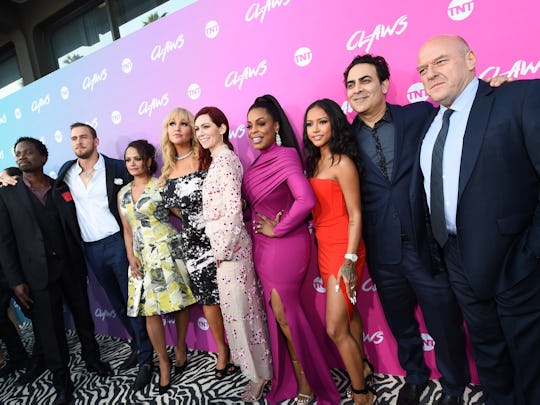 Emma McIntyre/Getty Images Entertainment/Getty Images
Let's Talk About The Nail Salon On 'Claws'
TNT's new dramedy Claws is centered around a fictional nail salon in Manatee County in South Florida. However, some can't help but wonder if the nail salon on Claws is a real place. It turns out it's not, and that the inspiration for the show actually came from creator Eliot Laurence's aunt.
Laurence told the Bradenton Herald that his aunt Victoria Hall, who's actually from New York, taught him "everything I know about humor," adding that: "Vicky loved getting her nails done, and she would love this show." He also mentioned that the show is dedicated to her. Therefore, it appears the Nail Artisan of Manatee County salon — which is where the show is mostly centered around — is entirely fictional. It's so fictional in fact, that the majority of the show wasn't even shot in Florida — it was actually filmed in New Orleans. However, the cast and crew did make their way to Lido Beach in Florida to shoot a few scenes.
If you haven't heard about Claws yet, the show follows a group of five diverse women who work at the salon, which is also used to launder money from the illegal pain clinic that's in the same strip mall as the nail establishment.
Niecy Nash stars as Desna, the salon owner, who lives with and cares for her mentally ill twin brother, Dean (Harold Perrineau). Working alongside Desna is her best friend Jennifer (Jenn Lyon), Quiet Ann (Judy Reyes), Polly (Carrie Preston), and Virginia (Karrueche Tran).
Desna's main goal is to leave the money laundering business behind and focus on having a legitimate salon. However, it'll be difficult for Desna to get out of the game. Desna must face off against Roller (Jack Kesy), who runs the pain clinic and Dr. Ken Brickman (Jason Antoon), who's supposedly a real doctor that just happens to work at an illegal clinic.
While Desna tries to get her own business underway, her staff has their own issues. Jennifer is struggling to stay sober and raise her two kids from previous relationships. Polly recently got out of prison for identity theft and Virginia makes it clear to everyone that she'd rather be anywhere than working at the salon.
Despite their issues, it's clear this group of ladies come together to form a team in this us-against-the-world dramedy series. And I, for one, can't wait to see how it all unfolds.
You can watch Claws when it premieres on Sunday, June 11 at 9 p.m. ET on TNT.