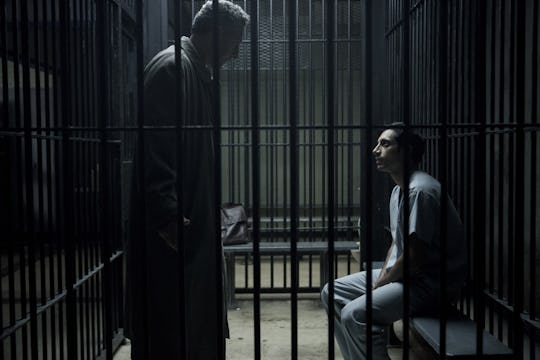 Craig Blankenhorn/HBO
Is 'The Night Of' Based On A True Story? The Show Feels Ripped From The Headlines
HBO is currently enjoying quite a bit of buzz around its eight-episode miniseries The Night Of, which premiered Sunday, July 10 to pretty good reviews! The show focuses on a Pakistani-American college student named Nasir "Naz" Kahn, who sneaks out one night in his father's cab to attend a party. On the way, he's diverted by a mysterious and beautiful woman named Andrea, who coaxes him into a drug-fueled adventure that ends with her stabbed to death in her bed and Naz heavily implicated in the murder. So is The Night Of based on a true story?
While the case is gripping and shrouded in mystery, thanks to Naz helpfully passing out while the murder was being committed, the crime is completely fictitious. Rather than drawing from a real life story, show creators Steven Zaillian and Richard Price adapted The Night Of from a BBC show called Criminal Justice. Like the HBO version, Criminal Justice's first season focused on the case of a cab driver implicated in a murder. However, since The Night Of was set to take place in New York City, Zaillian and Price decided to make the protagonist a Muslim American college student of Pakistani descent in the interest of exploring how racial bias affects criminal justice in the United States.
"In the British series he's a white kid because most of the cabdrivers are white. Most of the cabdrivers in New York City are not," Zaillian told The Wall Street Journal. "That one decision affected the whole show."
Price added, "I wanted to show the knee-jerk hatred that came out" when police implicate a Middle Eastern man in a violent crime.
The series has certainly touched on Naz's race in the premiere alone, showing him getting heckled by a passerby who calls him "Mohammed" and asks if he's left his bombs at home. Later, when the man who will become Naz's lawyer first stumbles across him in the police station, he asks an officer, "Who's Gunga Din?"
Interestingly, shooting for the pilot of The Night Of began years ago, when it was first in the works with HBO. At the time, James Gandolfini (whom Zaillian had previously directed in two other films) was slated to play the lawyer, Jack Stone. Unfortunately, with his sudden death in 2013, the project stalled out. Although Robert De Niro temporarily signed on as his replacement, the series eventually moved forward with John Turturro in the role. It's clear that the pseudo-shifty (but totally brilliant) lawyer's tactics in pursuing the case will be a hugely compelling part of the plot. Teasing out these racial elements of the storyline will undoubtedly be what helps it feel so ripped from the headlines, even though the story is fictional.